Sick here... I've been struck by an out-of-season sinus infection that has been wiping it out. Here's the view of my world from where I've been sitting way too much of the time. It seems that this could've been some really productive knitting time except this laptop thing constantly lures me into the cyberspace world of knitting patterns, yarn, blogs and chat. I'm sure I spend more time reading about knitting than actually knitting.
The good news is that I've found two patterns that I love that I can knit from my Stash! Aside from my sock yarn stash, this is an entirely new concept for me as I find buying the yarn a tantalizing part of the whole knitting process... but I'm really excited about being able to dive into these sweaters.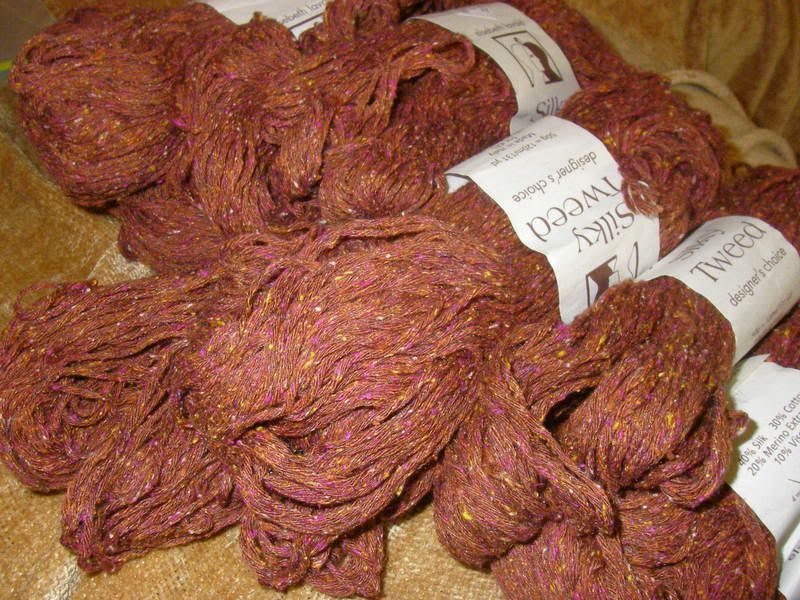 The first is the oh-so-famous
Simple Knitted Bodice
. I'm going to use the 9 hanks of Elsebeth Lavold Silky Tweed that I got not too long ago in a swap! I'm also loving the new
Knitty
and plan on knitting Viveka with some yummy pale blue Debbie Bliss Cashmerino Aran I have... in my stash! But maybe first I'll have to use my brown Blue Sky Cotton to knit
Something Red
while the weather is still warm. While I must confess to a couple of goodies coming in the mail, I am still quite proud of my new resolve to dive into my stash. (Disclaimer: my "plans" are not much more than daydreams since they are likely to change at any moment and I'll never get anything done at the rate I'm knitting these days.)
At any rate, first I'm determined to finish the last sleeve of Top Soft sweater seen above next to my computer. But then... oh, who knows what I'll actually do next.
Sidekick here loves keeping me company while I'm knitting. Such a buddy. We just enjoyed a great Jim Weiss CD full of Tom Sawyer stories and I finally got my computer back from him after he spend about an hour playing Rainbow Rock, his new math game.
BTW, we have gotten off to a great start with our school year!. D here doesn't even realize he's done school today and his brothers are working so hard. I'm very proud of them all. There are moments... oh yes there are moments... but overall they all have good attitudes and are making my work a joy!