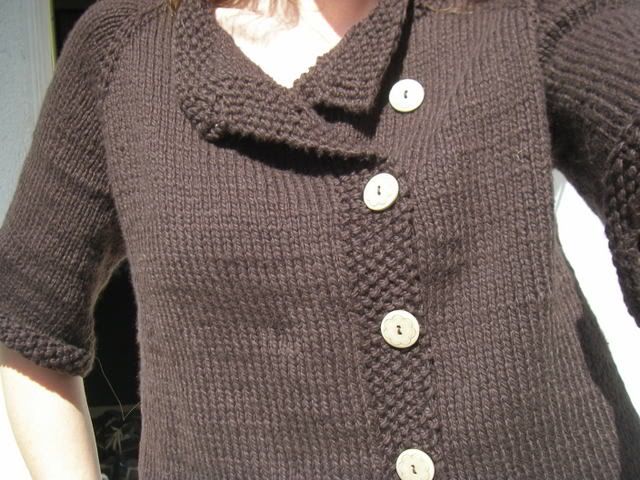 I became a blogger because I loved meandering through the blogs of others. I wanted to see how a pattern I liked had turned out for somebody else, what yarn they used, what problems they had... I was looking for new ideas, new patterns, new techniques... and I enjoyed getting a glimpse of the lives of the wide variety of interesting and creative knitters out there. Quite simply, I became a blogger because I wanted to be a part of this worldwide community.
However, being one who is easily distracted, I find myself posting about everything from
rattlesnakes
to basketball, from books to homeschooling, and, way too often, about plans, yarns, and patterns that I will most likely never knit.

Anyway, taking note of my lack of any completed knit as of late, I finally took some time today to sew the buttons onto Flair... finally. I should've blocked it first but I was so pleased with it and so excited to post a finished knit that I went straight for the photo shoot... unfortunately, good photographers are hard to find around here. Geesh! You'd think I was making them re-mop the entire kitchen every time I asked them to try again. So once I was finally convinced that only a photoshop upgrade was going to smooth out my complexion (horrible eye allergies have been preventing me from wearing make-up), I've settled for what you see. Just focus on the great sweater, not on the model please. The Blue Sky Cotton feels wonderful and the "swing" of Flair is way fun. I'm expecting this to be a well worn knit.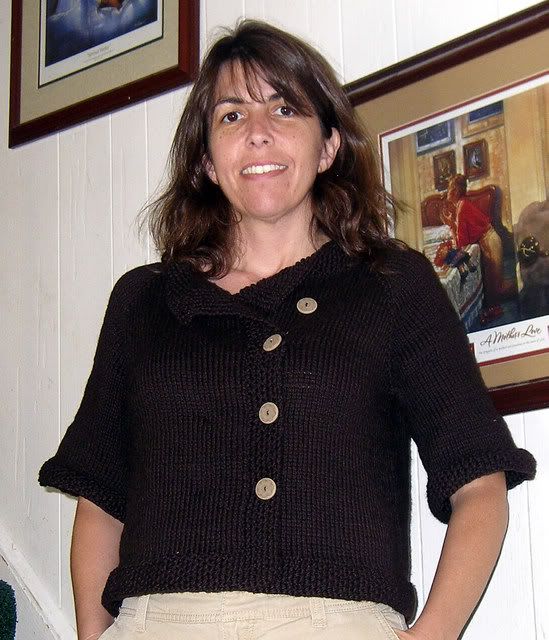 Specifics:
Blue Sky Cotton - Expresso - about 4 1/2 skeins
Size: Small
Modifications: I accidentally glanced at the medium pattern and cast on too many stitches under the arms but it seemed to work out well in the end.


In other news, my new summer wardrobe arrived in the mail today. I used a gift certificate I got for Christmas to order some Old Navy garb in their new summer colors. You might conclude from this that I'm a big fan of coral and purple... but I somehow just managed to overlook the lack of variety in my color selections. Oh well, I can throw this in a suitcase with my Costco bathing suits (hey, they were $21.99 a piece and fit... I couldn't pass up a major time/money saver like that) and be almost packed for Mexico (shudder).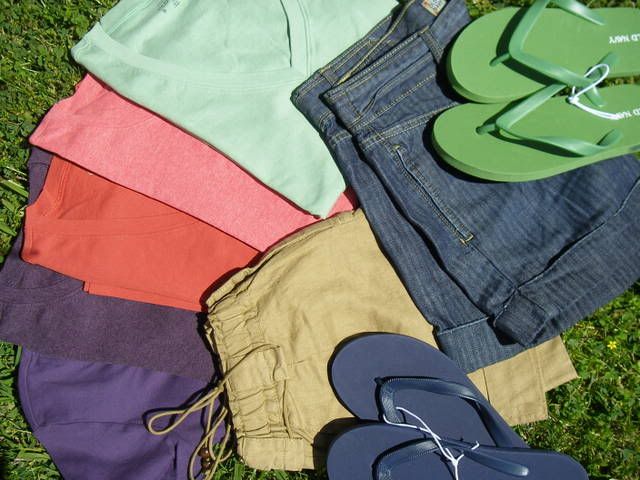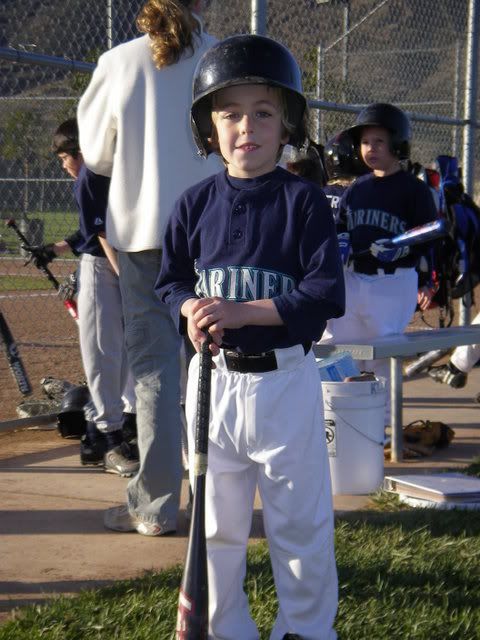 I was trying to figure out why I'm not getting much knitting done lately, but the answer, in a word, is... baseball.
But I do love a boy in a uniform!
Well, I'm off tomorrow for a 3 day basketball tournament out of the area. It's the grand finale of our season. I'm only taking my oldest 2 boys and sharing a suite with my pal and her kids so it should be fun (and include some reading and knitting).
Now for the big decision... what knitting to take with me! Off to pack.