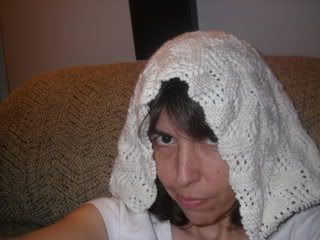 After spending 2 weeks tenaciously committed to monogamous gift knitting, I returned today to something for me... Midwest Moonlight. I
really
want this scarf. The lightweight Cashsoft yarn is perfect for So Cal weather. I can picture it draped loosely around my neck... just enough to keep a chill off. Classy and luxurious, my friends will admire it and I will snuggle and soak up its softness. Ahhh... it will be good... yeah, someday... it will be good... some...day.
Problem is, I just can't get into the groove with this thing... I figured today that if I commit to it like I did the Christmas gifts (which are almost done) then I can do it. I did a few rows, then played Scrabble Jr. with 4 yos... I did about 8 more... then took a nap (as I am upholding one of my most consistent traditions of getting sick upon the arrival of Christmas). I picked it up to knit some more and, well, here I am.
Oh well, this "Giggle Mask" set still makes me laugh...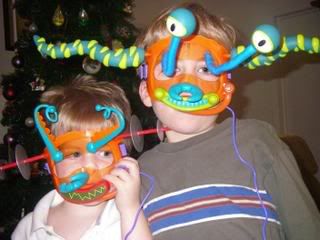 Did I mention it has a voice changer too? It's nice to be easily amused.