Well, it's not like I haven't been busy knitting, I have... really busy even... but I keep jumping from project to project so I don't have a ton of progress to show on any one project. (Deep breath... this is okay I tell myself.) Truth is, I like variety, I love a good challenge, and I like to have simple things on hand for movies, reading and such. Ideally, I like to have one "thinking" pattern going on (I'm finding I really like cables and lace), one in-the-round project for ease and a couple of small, carry anywhere type of projects like a scarf and socks to, well, carry around. However, my current knitting basket overflows with stockinette type of stuff.

While my feelings for too much stockinette will keep me away from many a simple sweater, the one's I choose, I choose carefully and I never choose anything I'm not excited about. So I can't say I'm bored or restless right now (actually I'm really enjoying my current knits)... just feeling a bit plain. I feel like I'm even writing in a rote, passionless tone, much like a stockinette stitch... Hmmm, I guess that all stockinette and no fun cabling or charts makes for a very dull blogger as well.

Anyway, as promised, here's my progress on Sahara just joined in the round...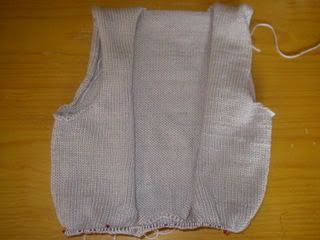 Sahara would be an exception to boring stockinette because of the interesting way it comes together, the promise of the beautiful hems and neckline, and the RYC Wool Silk I'm using! However, I will confess to recurring worries about the color. I like it, love it even, but I can't help feel nervous about the hazardous objects it might come in contact with... such as red wine. If I wear it I will spill it... no doubt! White wine only with this sweater.

Meanwhile, stockinette continues with Drive-Thru...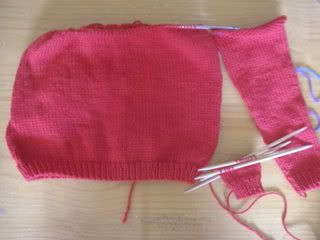 This has been an awesome movie companion. I love the little sleeves and can't wait to get some color going! The Knit Picks Swish Superwash has been a perfect substitute. I really like knitting with it.
So, while I absolutely love these two projects, I started hankering for some charts so I pulled out some yarn to work on a lovely cable knit scarf... Ha! That's what a sensible person would've done! But me, I started a sleeve for yet another sweater. Hmph. So here is the beginning of a Wanderlust sleeve...
I'm using a beautiful brown Debbie Bliss Chunky Merino and while I'm crazy about the pattern it is immediately clear that only if it snows here in So Cal will it ever get worn. So... if anyone is interested in a lot of DB Chunky Merino for real cheap (or for swap) let me know!
Besides, what came in the mail today is sure to satisfy my cabling urge...
I have wanted this book for so long and finally bought a used copy online. I can't believe what I've been missing!! I want to make everything!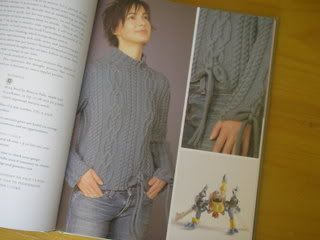 Especially this...
And this...
Ah... a gal can dream can't she?
BTW - If you're a sock knitter, or want to be, checkout the Socktopia KAL on my sidebar started up by one of the gals at the Knitty Coffeeshop.