Okay... time to stop the insanity! I need to finish the gifts in progress and
not
start anything else! Please remind me that I am down to like 2 days left and still need to bake cookies... hmmm... maybe we'll make after Christmas cookies this year.
I was staying focused... really I was! But then there was yesterday. It was a very bad day. Let's just say it involved lost car keys, no caffeine, and practically no knitting. Yeah, that bad. So today, feeling the need to get out of the chaos, er, I mean enthusiasm that exists among 5 boys at this time, I decided to take a little drive 25 miles up the coast to a not so local LYS to look for some Lorna's Laces Worsted for a beanie for my youngest. But mainly I just wanted to take a quiet, peaceful drive.
But then there was the incident. The unfortunate moment when I set my keys down to grab my wallet and cell phone... followed by the even more unfortunate moment of me hitting the lock button, slamming the door and thinking, shouldn't I be dropping 3 things in my purse and not just 2? Now if I could've reached DH or even found my AAA card, things might have been different... but I couldn't, so they weren't.
What does a slightly weary, fairly on edge, still surprised it's almost Christmas gal do when she's locked out of her car at an LYS? Yeah... I know you know. Fortunately, I was lucid enough to ask about their return policy before I checked out. So I know that the yarn I purchased for more knitted gifts can all go back (gift cards Tammy, think gift cards)... except for the LL Worsted in Camo (score). Oh and I imagine I'll be keeping the Claudia's Handpainted too. Just guessing.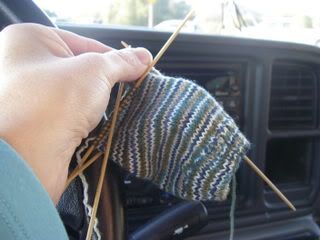 On the bright side,
Wendy
showed up right after I got there so I got to visit with her and another local knitter. (And my son eventually found my AAA card, so I guess all's well that ends well.)
Speaking of peaceful drives - If you can take a picture of the sock you're knitting
while
you're driving... you might be on a So Cal freeway.