A
little progress on Sahara today.
Provisional cast-on unchained and shoulders separated from neck.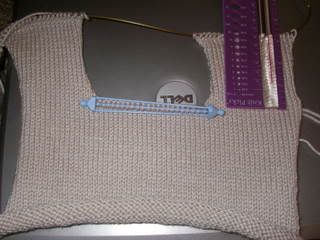 Knitting picked up and proceeding over shoulders.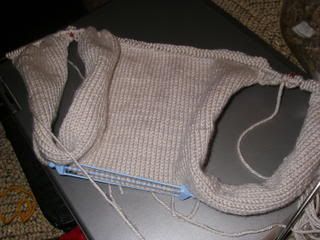 Front and back attached. Ooooh... looks small. I'll knit a couple of rows and give it a shot. It needs to fit around the arms at this point.
Is the suspense just killing you?
And...
it looks like it's going to work!
and it looks like I have a long way to go.
But it is a very interesting knit so far. Wendy's design is ingenious... it's so much fun to watch this sweater come together. The directions are very clear and the pattern includes tips and pictures for the different techniques. The only suggestion I would make to Stitch Diva would be to picture the sweater on some women of diffent shapes and sizes showing that it could be worn on us non-model types (at least I hope it can!)
Time for a snack....