A few pals and I are getting ready to dye some Knit Picks Bare we picked up a while back so I have begun to collect Kool-Aid.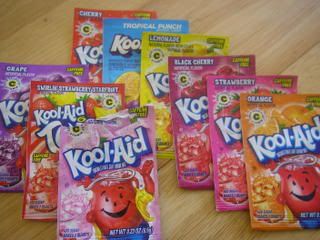 I've managed to put together a pretty decent collection but noticeably absent are Blue Raspberry and Lemon Lime. As far as I'm concerned, the notion of dying yarn without blue or green is hardly worth considering! Fortunately I have a "connection" for these... and check out the yellow and pink lemonade
Michelle
! There's a great Knitty
article
with instructions as well as a Kool-Aid color chart to give us a hint of what each color will ultimately produce.
In the meanwhile... I've secretly been adding to another related "collection" (because calling it anything other than that at this point would be sadly misleading). I say secretly because, well, I let some time pass before showing you due to my shame and embarrassment.
Fortunately, I'm pretty much over those now.
Now I will gush over all of these yarns. I found the
Gypsy Knits
"Melon Patch" on Etsy and it is gorgeous (as are all her colors... I had a tough time choosing). I'm crazy about the color combination, the twist, and the price!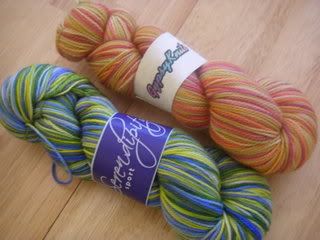 This last one is Smooshy Sock Yarn by
Dream in Color
and it is! Smooshy that is... very. The color is Petal Shower. The Zen String and Smooshy are both from
The Loopey Ewe
which has become one of my favorite new suppliers... er, I mean stores.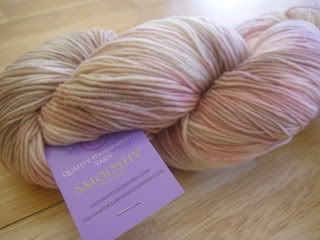 So yarn overfloweths and I can't even decide what to start next so I sit here knitting a floral shaped washcloth that's kicking my butt thereby totally nixing it's purpose of being a quick, satisfying little knit. Being as I have no future plans for said washcloth aside from quickly forgetting about it, I'm spending a ridiculous amount of time frogging and recounting.
After about an hour of washcloth agony yesterday, I finally opted for knitting the second of my No Sweat Socks from
No Sheep for You
. They're okay (for not being wool) but the Wick is a bit tough on the hands to knit at that gauge...
but at least I don't have to count and they'll be done soon!