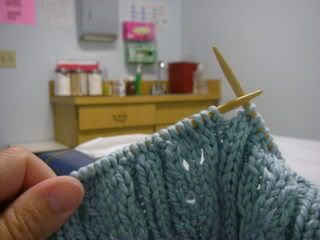 I thought it was only appropriate to snap a picture today of a WIP at Urgent Care since almost all of my knits get to visit the doctor's or dentist's office at some point during their time on the needles. This trip was sponsored by a suspected rib injury in teen #2. Ahhh... the ongoing saga of boys, their bikes, and the things they think they can
jump
. Supposedly the rib is okay, but (if you've been around here enough, you'll know) I rarely believe doctors.... especially when it comes to x-rays. I've refused to get fillings in cavities that I could not see on the x-ray and I've carried x-rays of supposedly healthy bones around to other docs (well, at least to our chiropractor) because I'm sure I see something the doctor has missed. Yes, I realize that doctors have received special training in reading x-rays and it's not a skill easily mastered by a curious mom. I'm just telling it like it is.
However, while I was there, still feeling pretty cruddy myself, I recognized a perfect opportunity to get an accurate temperature reading. (You may not understand my obsession with temperature, but don't feel bad, few people would. But somehow an actual fever validates any symptoms I may be feeling and formally excuses me from household duties. It's like a note from the doctor... without it I don't feel excused.) Much to my son's chagrin, I was quick to slip one of their little band-aid sized thermometers in my mouth when the nurse exited. Much to my chagrin, the usual half-hour wait for the doctor was cut short by about 28 minutes.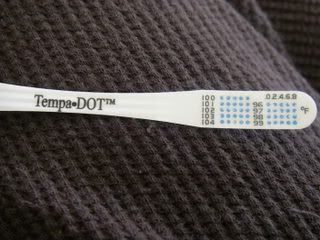 Oh well, it didn't seem to work either. And I didn't get a second chance because apparently once it's been elevated to a certain temperature (like by left in a hot car), it does not return to normal and shaking doesn't help. (Boy I miss mercury.) My friend,
Julie
, suggested that I get those little digital ones but I was quick to inform her that these didn't work either. It was in this moment... this brief, but alarming moment... while Julie was carefully phrasing her response, that it painfully pierced my conscience that the problem just may lay more with the obsessive temperature taker than the thermometers themselves.
Ugh! I hate these moments.