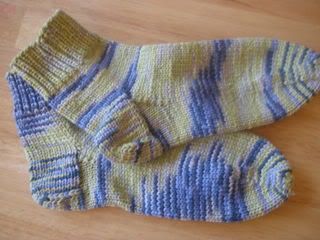 Wow! It's only Wednesday and I've finished 2 pairs of socks this week! (Recollecting when they were actually started would be a waste of time because I refuse to let anything diminish my sense of accomplishment.)
These are the completed No Sweat Socks from
No Sheep for You
. They knit up quickly with SWTC Wick on size 2 Knit Picks circulars... and while I liked knitting with the Wick, I think I would prefer it even more on bigger needles as it felt tight and tended to snag a bit on my pointy size 2s.
I do like the look, but I'm not sure about how they'll feel to wear yet. They seem comfortable enough but a bit stiff and thick to the touch. In my mind thick equals hot but since these are, after all, "No Sweat" socks, I'm optimistic. I have a feeling that a good wash and wear will make all the difference (especially since I'll be wearing them on my feet not my hands). They could end up being a great summer-time (and, of course, non-wool) alternative to the common colorful options. I'll have to report back. And did I mention they were quick?!
Since I seem to be on a sock roll... and still unable to decide what else to work on... I cast on for
the Interweave Waving Lace Socks from
Favorite Socks
. I love this book!! If you knit socks, and don't have it, you really should get it... today!
I'm using Seacoast Handpainted Yarns Merino/Tencel in the Fresh Air colorway via magic loop on a Knit Picks size 0 circular. I love the delicate colors and the tencel gives it a nice sheen. The pattern is interesting but easy to memorize... just like I like 'em.