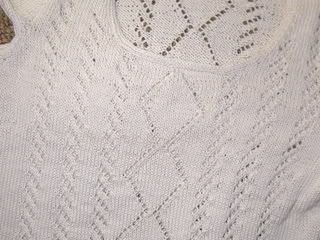 I haven't had much time to knit this week but I did finish Bonita... and it is wonderful! The fit, the I-Cord edging, the remarkable
6 hour hem
. It needs to be washed and blocked, or steamed or something... but I don't dare attempt such a thing on such a treasured knit right now. No, not this week. Images of a shrunken, twisted Bonita haunt my mind. And a modeled pic was out of the question because surely the frazzled, stressed out, pinched up look on my face would be unavoidable. To be honest, at this point I am simply relieved to have survived this week without stabbing anybody with my knitting needles.
While I'm a fairly easy going person for the most part, I tend to have a bit of a character flaw when it comes to dealing with certain types of people... most notably would be those with the tendency to be condescending and/or simply irrational.
Apparently, the good Lord wants to see me grow in my tolerance for such people because He has allowed many of them to interfere with my life over the last week. As much as I desire to be a gentle, tolerant person, apparently 3 is the total number of irrational people & situations that I can be exposed to before I freak out, go ballistic, or lose it entirely (all sadly appropriate terms). I do not confess this with pride, but with shame and a determination to accept the challenge of growth and learn to more effectively manage my knee-jerk reactions.