Although it has still not been formally blocked, the grimace has waned from my face enough to attempt a photo shoot. So here it is, in all it's glory,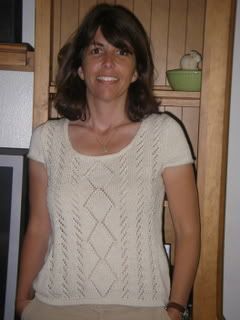 As I said before, I am in love with this top. It is very light-weight and cool so perfect for our climate. I was quite impressed by the I-Cord Bind Off around the neck and sleeves. And I'm really glad I took the time to do the folded hem because it really gives it a nice weight around the bottom as well as a finished look. Provided I don't accidentally toss it in the dryer and ruin it, this will probably become my most frequently worn knit. Additionally, I will no longer be afraid to tops knit with sportweight yarn on size 3-4 needles if the results will be this worth it.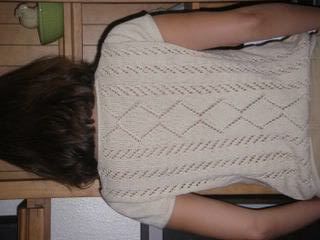 Just the facts...
Pattern: Bonita, Interweave Knits - Summer 2006
Yarn: Garnstudio Safran, 5 balls #18 Ecru (size 37")
Needles: Knit Picks Options size 4 & 2
Modifications: None
Additional comments...
The sleeves and the hem both required Crochet Chain Provisional Cast-Ons. After using the Crochet Chain method on the hem, I decided to use the simpler Long-Tail Provisional Cast-On for the sleeves. While the Long-Tail method is by far quicker, it doesn't "unzip" like the Crochet Chain one does so more time is spent releasing the live stitches. Both methods end up taking a little extra time so it probably comes down to a matter of preference. I did like the ease with which the hem unzipped... but it can also be a bit scary to unzip 222 live stitches so easily.
I wish I could've gotten some better pictures to post, but I'm working with amateurs here who, oddly enough, don't enjoy patiently taking picture after picture of their mother until they get it "just right". Go figure.
BTW, I do realize that the sleeves appear to be a bit uneven, but I am entirely comfortable ignoring that minor detail as it is really only noticeable when I stand very still (which I almost never do).