My years as a parent have left me with a couple of theories about children. While my first theory is a bit hard for me to prove, my second theory is confirmed every year at VBS. My theory is this... that children are able to increase their own energy by absorbing and depleting the energy of adults that share their space.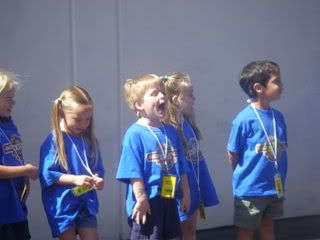 We have one more day left of, what has turned out to be, a great week of VBS. However, as usual, each day the kids get a little more excitable and energetic while the adults slowly wind down into fatigued masses.
Here's one of my boys and a few of our teen helpers (who are too young to start experiencing energy drainage)...


And the recipient of this firing line...

My oldest son... who turned 15 yesterday!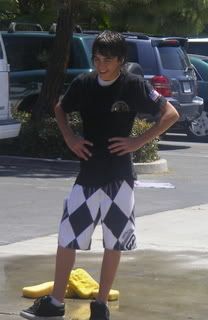 He also started Freshman football practice this week which gave me the opportunity to attend a football orientation meeting (while DH coached a baseball game) where I received a packet of information they put together entitled Freshman Football Parents Survival Guide. (Have I ever mentioned that I hate meetings? I mean really loathe meetings?) Anyway, I'm not sure how carrying around this folder is supposed to help me survive the hefty "donation"/fee, the additional "transportation fee", the 4 snack shack duties (a fate worse than death in my mind... and something I've managed to avoid through over 10 years of youth sports), the fundraiser, the field clean-up day (fun for the whole family) and whatever else I've blocked out of my tired mind.
But I can tell you one thing... I've finally found a place where I would never knit! A high school football booster meeting! It would be the only place I've been in recent years where I felt sure that pulling out a sock on dpns would cast me into total social oblivion. Not that I would mind, but the repercussions to my son's social standing and reputation may be irreparable.
I've knit about another inch on my sea silk scarf and spent the rest of my time stepping over the clutter and laundry that's accumulating around my house at an unseemly rate. I'm too tired to deal with either so I'm trying to work towards clean underwear and occasional meals.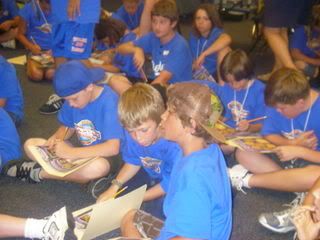 Oh, and my first theory... I am quite certain that a wee one in the womb absorbs his initial foundation of brains cells directly from his mother thereby depleting a small percentage of her total brain function. While I have seen much evidence of this, it is most noticeable in mothers of many whose life begins to revolve around counting to, in my case, 5. Walking through Target... 1...2....3...4... wait, where's...um... who? Oh yeah the middle guy... where'd he go. When the constant need to calculate how many more kids we can fit in our car, how many tacos I need from Taco Bell, and if I have enough towels to go swimming become great challenges it's a sure sign of brain cell depletion. But the greatest evidence would have to be, in spite of all the counting, the ability of said mom to leave her youngest behind. (Not that I've done that of course... just heard tale of it... really.)