Interweave's Lutea Lace-Shoulder Shell turned out to be a super fast knit. Most of it was knit while reading
"The Brothers"
or while watching intense baseball games (I knit extra fast when the score is close). I just need to weave in ends now.
But here's the real reason for my post... I, for quite obvious reasons, absolutely cannot buy any more sock yarn for some time. But apparently some twisted form of self-torture compels me to continue browsing through the latest additions at my favorite cyber-shops. So this is what I need you to do... I want to you to check out the incredible selection of Lorna's Laces and Claudia's Handpainted Yarns that have turned up at
The Loopy Ewe
. Please buy it... buy it all...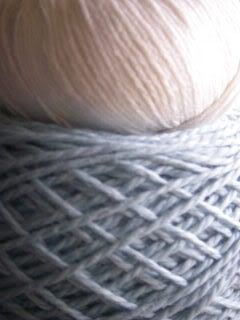 most specifically the Claudia's Turquoise Jeans and Pistachio, and LL's Envy. (The temptation is killing me slowly and painfully.) Then let me know and show me wonderful pictures so I can live vicariously through you! Come on... you know I've done it for you! (And just for the record, I have no relationship with the Loopy Ewe beyond lusting over their amazing collection of sock yarns.)
Well, I must admit that it feels good to be checking some WIPs off my list. But I wouldn't want the pile to get too small. So now I have to figure out... what's next?