The knitting of Ella is officially finished! Please note that I do not include end weaving or blocking as part of the official "knitting"; and these minor finishing details are under no time constraints. However, my curiosity regarding the magic of blocking actually has me wanting to soak and start pinning right away... and I would... but I have nowhere near the number of pins I will need on hand. (Guess where I'll be heading first thing in the morning???)

I'm definitely concerned about the size. I used a finer yarn (Lorna's Laces Shepherd Sport) on smaller needles (size 7 - but I knit lose) than the pattern called for... and, well, I didn't, um... you know... swatch. Actually, the advantage of having a knitted and blocked swatch swatch didn't even occur to me until about 1 hour ago when I realized that having such a measurement available to me at the beginning would have let me know if I needed to modify the pattern to add some sections.
I find this puzzling since I like to think of myself as a woman of some intelligence so I'm not sure why I rebel against the value of the swatch. Obviously my lack of patience exceeds any intellect that I think I possess. Hmmm... Let me rephrase that... Obviously my great enthusiasm and passion for a lovely new project sweeps me away, suppressing my usual wisdom and compelling me to throw caution to the wind. There, much better.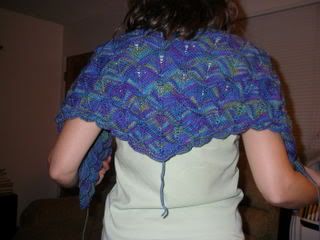 Anyway, as you can see, it is not quite shawl length in back but I have high hopes for blocking! Optimism reigns. And if it doesn't work, I will still wrap it somehow and where it proudly... it will just be my extra wide scarf! (I'll have to work on getting a decent shot of the colors later. They are definitely closer to the 2nd picture.)