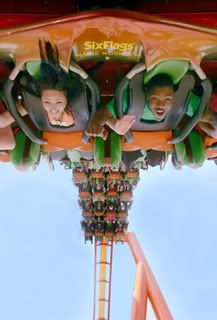 I hadn't been to a real amusement park for 20 years until yesterday when I took the three older boys to Six Flags Magic Mountain. Now I LOVE roller coaster... I love to wave my hands and scream like crazy. But, even though I'd seen the commercials, nothing could quite prepare me for the advances that have taken place in roller coaster technology in the last 20 years. Of course being the fearless roller coaster freak that I am, I confidently and enthusiastically followed my more up-to-date friends to Tatsu, the newest and one of the more extreme roller coaster in the park. We rushed through the gate following our overly excited kids to the ride, manuevered the very short line (the park was closed for Homeschool Day!), and quickly took our seats. Being easily distracted, I didn't pay much attention to the ride until I watched the people in front of me straddle their seats, the get "locked down" chest, waist and feet. The car then tilted back away from the ground so these people were hanging there staring at the ground below. And then they took off... up, down, around, over loops, under loops... you name it they did it... all the while hanging from the track. At this point, several things went through my mind such as is their a bathroom nearby and, mainly, "Why?" Why were doing this... why did I want to? Heck, 2 of my own children opted out and were waiting below, but here I was standing in line waiting for... what?
Well, I did it! Hated it, but did it! We then proceeded through a series of coasters in which you were either suspended, standing, flipping, looping, going backwards, and, my favorite, the one with the 240 some foot drop that exceeded speeds of 80 mph. What a blast. When I returned to the wretched Tatsu for one more ride at the end of the day (don't even ask why I'd do it again because I couldn't tell you, then or now) I found that I loved it too.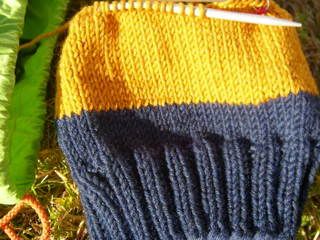 Well I carried a purse specifically so I could carry my camera (and knitting) because clearly this was a day of endless opportunities for great photos but only one of the two came at of my purse... I'll let you guess. (Here's a hint.)
So to make up for lack of fun family pictures, I'll share a few shots of things to come... Heck, that's what you're really here for anyway, right?
SWTC Karaoke with a fingerless glove pattern for fun...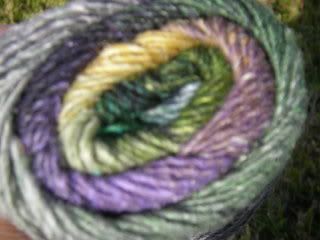 A skein of Noro Silk Garden picked up at my LYS visit this morning because the colors were amazing. It will be a hat for me.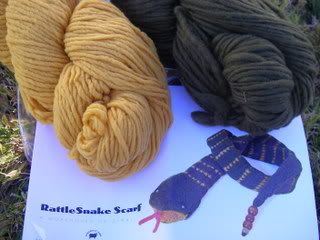 And my favorite... A Morehouse Merino Rattlesnake Scarf pattern for little guy. Just couldn't resist.
Now off to football... we're in the playoffs baby!
(Didn't that sound good... do I sound properly enthusastic about what could possibly severaly more weeks of football?)