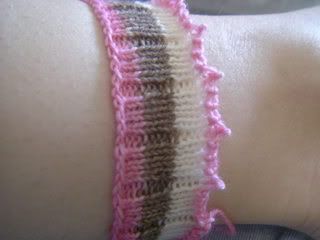 Well, I tried to proceed with my Vesper sock on the size 1 needles but it just wasn't happening for me. I was feeling a little disappointed with the yarn (and assuming it was my ignorance since the yarn is clearly hyped as being to "dye" for) since it just seemed, well, unimpressive. And when I got to the heel, I thought of Donna's sad tale (I'm so glad you shared this when you did!) and knew it was time to start over. So out came my little, slippery Knit Picks size 0 dpns. Much better but so slippery and awkward... so, a trip to the LYS was in order where I got some Addi Natura size 0 dpns. Love 'em! Love the yarn! Love the new "swatch".
After some errands we returned to pick up my son's new eyeglasses. (He somehow came to the realization on his own that the big black frames were maybe not his style - whew! - so we took advantage of our 30 days to get it right guarantee and made a swap.) His new ones are much *much* nicer! Anyway, we're sitting there waiting so I pull out the beginning of my sock on the KP dpns and begin transferring it to the new Addi's. So there I sit with pink yarn streaming out of my purse, needles dangling and one in my teeth, when my dear son sadly confesses to me that he was embarrassed to wear glasses. All I could think was how much I loved him for not being embarrassed to be sitting next to me at the moment. I explained that God couldn't make him totally perfect now could He?
BTW - does anyone have any experience with astigmatisms? His vision is pretty good, but he has an astigmatism in each eye which, we believe, is causing him to read slow & get headaches. He doesn't really see any visible difference when he p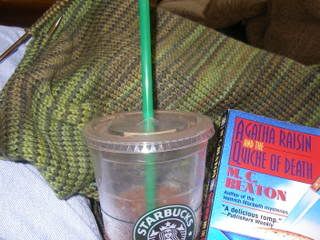 uts on the glasses (apparently since his eyes have been so used to doing the extra work for him) so he just doesn't get why he needs to wear them. And I, for some reason, have major trust issues with medical professionals. (I never believe them... don't know why... and don't start analyzing me, it would take to long! LOL) Any advice/experience you could share would be most encouraging.
Well, today looks good so far. DH took most of the boys to a local youth football game, so aside from laundry, pictured is my plan. Oh, and I must place an order with Knit Picks for some Swish Superwash for Wendy's new Quicko-Cheapo (aka Drive-Thru) sweater... in red & gray of course! ("Drive-Thru" may have won the vote but I prefer Quicko-Cheapo and I'm going to take advantage of one of the rare opportunities I get in life to make my vote count even if I lost!)