Well it's over! Halloween I mean... it's not my favorite of holidays. I used to love it as a kid. The chance to dress up, to be somebody else. Remember those costumes at the drugstore with the cheap face mask and plastic cape? I could be anybody... Wilma Flinstone to Spiderman with a simple mask and cape that cost about $3.95 and I would be thrilled. Now it seems so much more complicated. Then multiply that times 5...
ETA: Can't you just see my halloween enthusiasm coming through in their expressions?

5 costumes to choose, 5 overly excited boys to get ready, 5 bags of candy being constantly dragged through the house, 5 boys hyped up on sugar who constantly need to be reminded where they should properly dispose of their wrappers...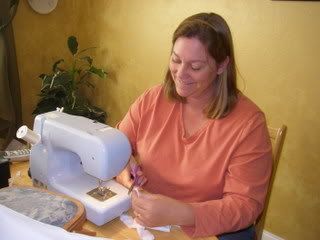 Anyway, aside from knitting, I'm not what you'd call a crafty mom - I do have my moments of cleverness but they are very infrequent and not to be relied on - so the whole costume thing just stresses me out. I am totally put to shame by other moms on Halloween. Check out Lynda's halloween goodies (I love the jello brain... well... my kids would love it!) And my dear friend Julie was busy finishing up some sewing for her daughter's costume while her kids finished carving their pumpkins when I stopped by yesterday. ***But whatever you do, don't ask her how she got the sewing machine working because it certainly wasn't the instructions from the user's manual that her daughter shared with her! It was merely coincidental that it began working after we finally coaxed her to give the bobbin cleaning instructions a shot. Truly it was. Julie is an amazingly gentle and even-tempered gal so it was a sheer delight for me to catch her in a state of mild halloween frenzy.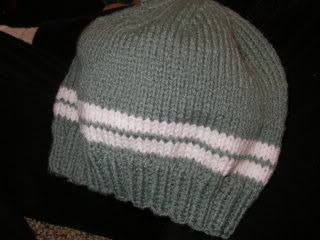 Oh well, like I said, it's over... (I mean aside from the sugar-filled week ahead of us). And I noticed that the Christmas goodies are already making their appearance in the stores so I feel like I have a good start since I just finished a 2nd hat for One at a Time Ministries. These are the only Christmas gifts I'm knitting so I'm glad to actually be getting something accomplished (my intentions are usually much better than my results).

As for now, I'm off to Narnia.