First I took 2 kids to the dentist - 2 kids who apparently need to drastically improve their dental hygiene habits. I don't get it because I never had cavities as a kid and I ate a heck of a lot more junk food than they do. (Heck, it's just flat out too expensive to keep junk food in a house of 5 growing boys!) I've already tried switching dentists (you know - trust issues) but that didn't work so... I guess we just gotta do what we gotta do. Ugh!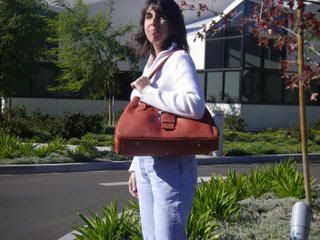 This was followed up by a trip to the library where after an hour of selecting books, we found out that the books I had just returned a couple of weeks ago had actually been checked out in August, not at the end of September as I had recalled. Ouch!

I have since been at home in a very unproductive slump which, oddly enough, leads me to some....
Good News!
Sahara came out today! Yay! I already have it in my hot little hands but herein lies a dilemma that is leaving me sitting here knitting nothing. See, I had planned on casting on for the Arwen Cardigan from IK today. But now, of course, I want to start Sahara. So, now I have to decide if I want to use some Brown Sheep Cotton Fleece that I have in my stash that I love and would make a very comfy sweater that I would get a lot of wear out of (yet seems totally unworthy of this pattern) - or - if I want to go find something a little more special like a silky merino. After this morning, my wallet is saying stick with the stash, but I do have a gift certificate to a LYS... sigh... decisions paralyze me.
And the best news... my hubby surprised me with the pictured Namaste Jetsetter bag this morning! I had very helpfully e-mailed him the
Kpixie
link and coupon code for it last weekend to assist him with his Christmas shopping and he was right on top of it! And gave it to me early! (I'm not sure what's up with the dorky expression in my photo above but my mom has the complete history of my life recorded in a series of photo albums of me with the same stupid expression as well. Whatever... we were in public... and we weren't going to stand around for re-takes.)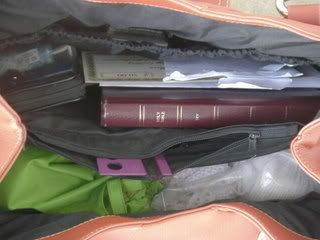 I love this bag! It
is big, but not too big to be carried as a purse. And, as you can see, it has lots of room inside. I was able to tuck 2 knitting projects (Midwest Moonlight & socks) in one side, my little tools pouch in the center zipper pocket, plus my wallet, glasses, cell phone and Bible in the other! It even had room for the dentist's bill, treatment plan, and toothpaste prescription - yes, prescription - for my sons. (Did you have any idea that there was prescription toothpaste?? Yeah, that's what I thought.)
Anyway, it didn't even feel heavy. And I was very happy to have everything I might need right at my fingertips. (I have this sort of phobia of being bored... you know getting stuck somewhere with nothing to do... yeah, I know, don't ask.)
Well, now I need to go make dinner... and then I can return to not knitting. Hmph.