Blocking pins... hmph. Couldn't find them (quick enough) so since I am a woman of very finite patience (& time), I settled for regular old pins from Target. (I know... rust danger... I'm also a risk taker.)
Great... we're blocking. Uh Oh... Hmmm... can you spot the problem?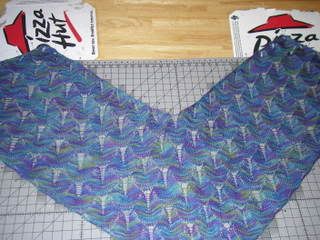 Or do all of you use pizza boxes when your knitted item exceeds the space of your blocking board. One might think it was sheer luck that I happen to have pizza boxes in the house just when I needed them but, sadly, there is almost always a pizza box in my kitchen. (Let's just say that the kids have started to complain when I say pizza is on the way.) Funny it is, how I can always find time to knit but have a thousand handy excuses for not being able to cook a real meal. Oh yeah... I'm busy knitting at that time of day. Just kidding (sorta), my job as sports chauffeur is what usually interferes.

So now I'm at the really hard part of patiently waiting for Ella to dry while frantically keeping all children and food away from the kitchen.
Meanwhile, I've been carrying around some Noro Silk Garden that caught my eye at the LYS recently that I have slowly been turning into a hat. Not that I needed a hat (or can actually wear one for that matter) but sometimes such things are irrelevant... sometimes I think that this time it will be different... sometimes I have a great imagination.
So, I knit up the hat and I was right... look at these colors... gorgeous!
However, I was unable to get any of my sons to get a decent photo of myself in the hat. And after much dispute it was agreed that it was not due to their lack of skill with the camera but instead to a lack of a decent model. Now I am not a vain woman and have a pretty decent sense of humor about myself but there are times that I just have to draw a line... So after a quick model sub (on the new hat owner) here's a decent shot of the hat.
My only request is that he not let the dogs eat it. (They seem have an affinity for Noro Silk Garden.)