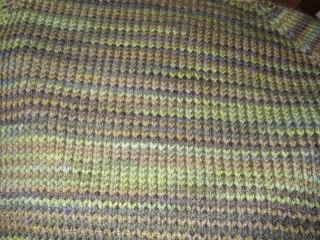 You know, I have lots of ideas... ideas that I think are good, even great. I have ideas, or let's call them opinions, about how most things should be done.... and I'm pretty sure that my way is the better/right way. As a matter of fact, people who know me well enough might even consider me an opinionated person (which I assume, in my case, means that I have lots of great ideas).
Well, as with the many things that come with age, fortunately wisdom is one of them and God has graciously allowed me to be humbled sufficiently over the years until I am able to accept and embrace the fact that I don't know nearly as much as I think I do. As a result, I have become much less judgmental and much more compassionate and understanding. (And people no longer seem to avoid getting stuck in conversations with me.)
However, if there was ever any doubt... if I had not humbly accepted this truth in the past... my experience with knitting would have totally thrown me for a loop because, the truth is... I have very few good ideas. I have no vision, no fresh ideas, and and no ability to improve any existing ideas/patterns. But mos
t of all, I should never impulsively invest in 4 hanks of not inexpensive hand-dyed yarn without a corresponding pattern or specific instructions as to how to use said yarn.
I was so hopelessly drawn to the Artyarns Handpainted Stripes that I had to have it... HAD TO. (And remember... It was one of those days.) I pictured it as a simple 3/4 sleeve v-neck that would make a bit of a statement with my jeans. Something fun. I decided to use Wendy's Essential Stripe pattern for the basic sweater. The pattern is great, easy to follow and produces a great fitting sweater.
However, this yarn is in no way meant to be knit in the round. Now the top of the sweater (1st picture) is a perfect example of the unique colors and striping of this yarn. But as I began the knitting in the round part, I quickly realized that pooling was going to become a potentially
major issue. So of course I stopped as soon as noticed this! Ha! (I chose instead to lose sleep while imagining other possibilities, only to wake up in the morning with a new wind of optimism and pick up where I left off.)
So, most sadly, this one is headed to the frog pond (a deep dark place in my house where it will remain out of sight until I am emotionally ready to face it it again) to be re-knit in pieces. I'm wondering however, if I can frog back to the underarms and split it there... knit the front and the back separately then seam. Hmmm.... most likely a bad idea.