Parenting is hard work!
I know I'm stating the obvious... but in most aspects it takes years of diligence and patience before we begin to see the rewards of our commitment. Instant rewards are unfortunately rare and it is easy to feel that I am doing more wrong than right.
However, I was blessed the other day with a relatively quick return reward from my 9 yos. Apparently
, I've done such a good job of pointing out the differences between a good yarn and a less expensive acrylic version (which I usually do out of self-defense more than instruction) that after seeing Wendy's Drive-Thru, he has decided he would like his own sweater... which he insists must be knit out of Karabella Aurora 8... his favorite yarn. Are you getting this? My 9 yos has a favorite yarn! And not only that, it's one of my absolute favorite yarns to knit with. When I informed him of the approximate cost of such a sweater, he merely shrugged and said "Okay." Sure, why not... he's not paying. But he wants it so badly that he's even willing to accept it as one of his Christmas gifts. Are you still hearing this? My SON wants me to knit him a sweater out of fine merino for Christmas! Ahhh.... makes a mother proud! (But fat chance of him getting a Karabella sweater before me! Well, we'll see.)
In the meanwhile, the following represents the extent of my knitting since the unfortunate "camo" sweater below...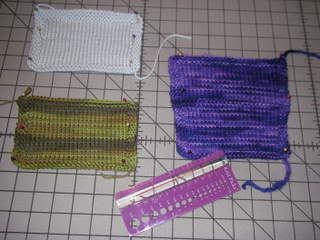 Swatches!

Debbie Bliss Cashmerino - size 8 - 18st/4"
Artyarns Handpainted Stripes - size 8 - 18st/4"
Mmmmalabrigo - size 9 - 16st/4", size 8 - 19st/4"
(I figured this was the best place to record my measurements as opposed to my old system of, well, 1st not swatching, then 2nd, losing any little piece of paper I keep important notes on.)
No idea what to do with the yarn yet... but I've got numbers.