Thank you all so much for your encouraging comments and for sharing in our celebration!
And now that you've indulged my trip to the beach and tales of home life, here is some actual knitting.
Finished "Steelers" Socks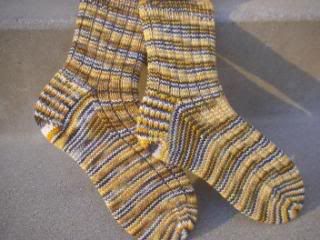 Black & Gold are the team colors for our local high school and youth football teams. My kids may not think much of these socks... but I know I'm going to be the envy of all the other moms!
Yarn: Claudia's Handpainted Sock in "Steeler" Colorway from the Loopy Ewe
Needles: Size 1 Knit Picks via Magic Loop
Pattern: Simple K3P1 rib
Cast On: 60 stitches
Claudia's Handpainted is one of my absolute favorite yarns. Not only is a pleasure to knit with but the colors are simply stunning.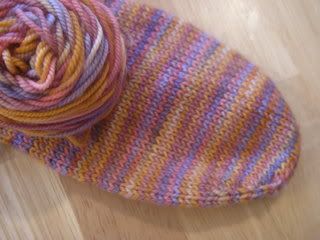 Last night I cast on for another pair in sport weight (also from
The Loopy Ewe
- my current obsession). I wasn't sure about how long I wanted to make these so I decided that I would give the toe-up pattern from Interweave another chance. Here's the good and the bad so far...
Good: I found
this cast-on
which I think is much easier than the one in the magazine.
Good: I like getting the long boring foot-work out of the way so I can look forward to the leg.
Good: The short-row heel is much quicker than the standard heel.
Bad: I had to work the heel 3 times to get it neat enough (although this may be due to the heavier yarn). Pictured is my 1st try. I did get it a bit tighter than this.
Good: On size 2 needles it's knitting up quickly.
Great: The yarn! The colors (Blue Terra-Cotta) are amazing. I've been mesmerized just watching each strip of color appear. Rust, pumpkin, orange, pink, raspberry, blue, green, purplish brown, gold, pale yellow... I know it sounds just awful but it's amazing! I am so appreciating my new glasses so I can enjoy it in all it's glory. I just wish I could get a photo that really captured the colors.
Bad: I have no idea how the leg is going to fit yet... or how I'm going to like the finished sock with the short row heel... and I love the yarn too much to have it be less than wonderful when it's done. My, my, a sock yarn that has me willing to frog... it must be love.
I've also put in some time on my Katia top. I know it looks funky in this picture but the boatneck is a bit hard to photograph without a model. Actually, I think I'm really going to like it. But again... I'm worried about size. It seems small... even the depth of the sleeves seems small. Yet I keep going. Since I usually make the mistake of overestimating my size, I figure I'd better stick with the pattern. Oh well, only time will tell.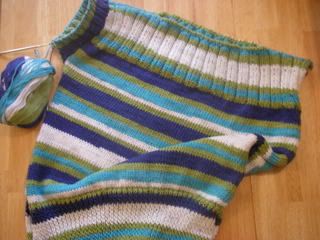 As you have most likely noticed, I've been accumulating quite a collection of sock yarn lately... and have been investing most of my knitting time in socks as well. I love having the variety of colors and textures at my fingertips. So far Claudia's has got to be my favorite... but I have many more to try!
What's your favorite sock yarn? And if you don't knit socks... well, you really should! :)