1) When your 13 yo son is at the hospital awaiting x-rays and blood work for persistent, yet not-specific, abdominal pain and he asks you what it could be... he doesn't really want to know. Based on his reaction to my list of options (which were many and creative and mostly inspired by House), I'm guessing that he was actually looking for reassurance as opposed to a differential diagnosis (as I liked to imagine I was giving).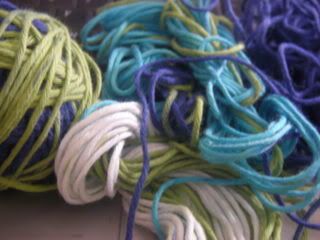 2) When an expert like Amy Singer suggests that cotton yarn should never be pulled from inside the skein but instead, unraveled from the outside... she knows what she's talking about... and it applies to the 2nd and 3rd skeins as well as the first.
3) It can take almost as long to unravel a tangle of cotton yarn as it does to knit half a sweater.
4) When the optometrists suggests that you get progressive glasses, it is not because you are so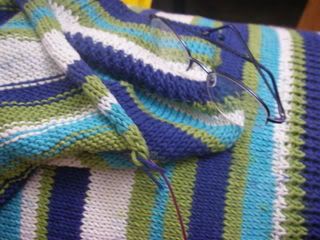 hip and ahead of the times that you need glasses that have progressed beyond what the average person should wear. No. Progressive just sounds a heck of a lot better than "You're old and need tri-focals."
This leads to the discover that "progressive" lenses require a larger surface area thereby eliminating all the cute, hip glasses and moving one into the "classic/traditional" section. This, however, can hardly be disputed as hip has never been a word associated with my style anyway.
5) Two hours at Lenscrafters is a long time for an energetic, inquisitive and highly creative 8 yo. After 2 hours of strange behavior (even for him) including countless questions and frequent gasps of "Those look horrible!" "Oh! Those are just awful!" "These prices are ridiculous!" "It would never take me this long to pick out glasses!" He was finally subdued by the long awaited opportunity to sit in a spinning chair.
Later that evening he boasted to Dad about his imitation of House in Lenscrafters. He was apparently trying to indulge me since his brother had not wanted to play along the day before.
6) I love my new glasses! Hip or not, I have achieved my passionate goal of being able to sit on my bum reading, knitting, and watching TV without losing my focus when making these drastic transitions. My life is complete.
And btw, my 13 yo is doing just fine. Apparently fear is a great cure for whatever was ailing him.