After 8 months in the making, I finally have a pair of
Jaywalkers
.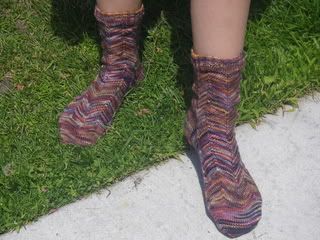 It was a great pattern and beautiful yarn (Claudia's Handpainted but I have no idea what color), it was just one of those singles that got set aside in pursuit of other obsessions. Note: I wanted a picture of the socks stepping off the curb onto the street as if to, you know, jaywalk... but creative disputes with my 10 yo photographer quickly wore me down into quiet submission.
I suppose I should've concluded my last post with this follow-up picture offering proof that no children were harmed during the highly professional removal of my son's cast.
More socks on the needles. Hoping to Monkey around soon! (You know everybody's doing it!)Now off to eat pizza.