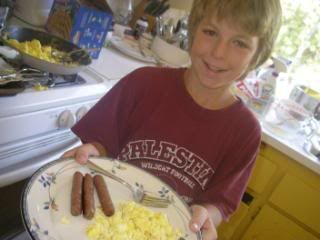 This was really more of like a lazy, too-late-for-breakfast, actually even past lunch time meal... but that's not the point. My Wy-Guy loves to cook. Can you believe it? Well, I'm sure some of you can because it's my understanding that some people actually do like to cook. I'm not one of those. Actually, the fact that he likes to cook suggests an even greater gap in our genetic make-up than his blonde hair.

Anyway, he made this entirely on his own and served it to me for lunch/brunch/whatever... and I was very proud. So proud that I had to share... but you must ignore my yellow cabinets in the background. We've been wanting to paint them for 14 years but we keep optimistically believing that we are going to remodel the entire kitchen at any moment so why bother. Just picture them in a nice maple, 'kay?
Here is the first of my Claudia's Handpainted Sport Shorts socks. I used 1 hank and a little bit left over (maybe enough for another 1/2" or so). I got just the length I wanted.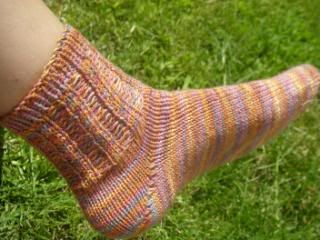 I used a slipped stitch rib from Sensational Knitted Socks. It looks a little sloppy in this picture... but it doesn't bother me so it's staying. (Maybe it will block out??)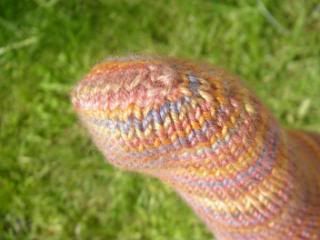 I love the neat little toe and now that I've done it once, the 2nd one was a snap to cast on for. I have such a sock crush right now. I'm sure it's the variety of colors and patterns that can be knit in a relatively quick time. But it's still odd considering the fact that I haven't been able to wear a sock I've knit all summer. Oh well... maybe I'll knit tank tops all winter.