I'm not a beach person. So even though we live 12 miles as the crow flies from the coast, we rarely go there. It's all the sand mostly... and while it always annoyed me on my towel and in my food (you can't keep it out) to begin with, once I started having children, it became a real hassle. Sand in their mouth, rolling in sand, throwing sand, more sand on me, sand in my car, and sand in the tubs at home. And as they got older, I not only had to deal with the one rolling in sand and eating bugs, but also had to keep track of the ones venturing out into the waves... becoming one of the countless heads bobbing up and down in the surf. And of course, once I, with great relief, track down the bobbing heads that belong to me, I turn around to find that the little sand monger has wandered off. Panic! This would usually be followed by a blessedly quick search ending with the discovery of him plunging his sand encrusted hand into a stranger's bag of chips. Geesh... a gal can only handle so much.
Well, back in February, I signed up to help with a beach event for our homeschool group figuring that it would get us to the beach at least once this summer. Of course I didn't want to go when the time came and my husband was tied up at work, so I set off alone with the boys who, for reasons that I'm sure were merely to torment me, didn't want to go either. (Of course JoJo still wanted to go... heck it's sandbox heaven for a 4 year-old.)
However, in spite of our lack of enthusiasm, we ended up having a good time.
My 8 year old, who wouldn't even swim in a big pool until this summer, was eager to check out the water...
I don't think he's ever even been willing to get his feet wet at the beach before so he took his time checking it out...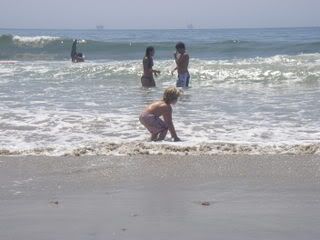 Cautiously, he got a bit wetter...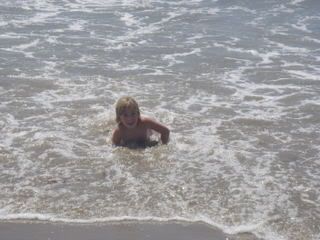 Then he went for it... and had a blast.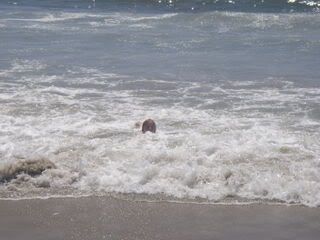 Son #2, who didn't have any friends there much as he has suspected, has the sweetest servant's heart. After a good swim, he spent hours playing cheerfully in the sand with JoJo.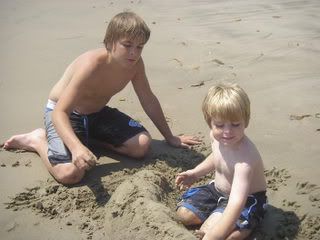 Check out that white skin... the boy sunburns like crazy! In spite of several layers of SPF 50, he still has a few blotches of sunburn.
I would've taken a picture of my oldest son (the one who usually loves the beach more than any of us)... but somehow a teen sulking in the shade was a bit of a downer. Personally, I think it was withdrawals from all the football and Little League World series coverage on TV.
But would you believe that I actually enjoyed it?! The kids had fun (my teen eventually joined in a volleyball game) and I got to kick back and relax with some other women. Not too bad. Maybe we'll go again soon... next summer is only 10 months away.
ETA: Apparently it was quite an exhausting day too. I just found this picture on my camera...