Today was my oldest boy's first day of High School. Since he has been homeschooled his whole life with the exception of a brief stint in middle school, I felt that a picture was in order. Don't you just love that look of pure teen tolerance...
Donna was quick to ask what he thought of the day... He said it was boring. (Imagine that.) He has a block schedule so he has 3 classes each semester that meet for 1.5 hours each day followed by a couple hours of football practice. (I would go crazy myself.) He thinks it will be better when they're doing something in class instead of just listening to the teacher talk. I'm not sure what exactly he's expecting but I think he grossly underestimates the stamina of an enthusiastic teacher given a
captured
captive audience.
JoJo however, had quite a different perspective on his first day of Kindergarten...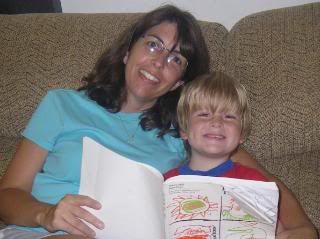 The first day of the new school year is always a bit of a roller coaster for us. I've learned to have very low expectations because there's nothing worse than starting off a new year feeling like you'll never make it past the first day. I try to avoid the visions of cheerful children neatly working in workbooks and enthusiastic listeners sitting attentively at my feet while I read... so I'm not so freaked out by the reality of 5, now 4, boys sitting in a 300 sf room together while trying to keep their hands to themselves and their mouths shut.
I always try to start our morning with Bible time because I so want to have God's word in our hearts as we proceed through the day. It really sounds beautiful. But somehow an insane woman yelling at bewildered, babbling boys really shatters the impact of the message. (I admit this with great shame... but hoping desperately that I'm not alone here.) I will say that I have put great effort over the years into learning to expect their imperfect behavior and handle any interruptions and/or distractions with gentleness, firmness, grace... and a bag of lollipops for good behavior. (For those of you who have not figured this out yet, the character building we parents talk about so much is taking place in us much more so than in our children. Maybe they'll get it when they have their own kids.)
We kept things relaxed for the most part today but I got to have a great history discussion with my 8th grader and I was overjoyed with the enthusiasm and questions of sons 3 & 4 during our reading time. I'm going to add a list on the sidebar of books and curriculum we're using just for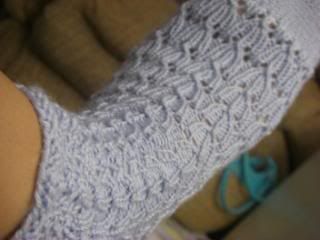 anyone who's interested or wants to share their experiences with same. (Don't worry, I have no intention of turning this into a daily homeschooling blog... nor do I plan to start a separate one... geesh... I do have a life after all... I think.)
And... I finished a sock.