I tend to be a rather logical (note that this doesn't necessarily have to mean rational... although I am good at rationalizing), linear thinker. While this may sound practical, it can often lead me down a path that I wasn't quite expecting or prepared for. For example, the following selection of patterns came in the mail yesterday...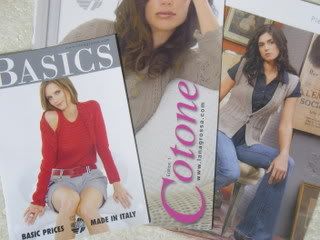 Both of the Lana Grossa booklets are full of cotton patterns (which is not necessarily great for knitting but good for our climate) and I happen to have quite a collection of cotton yarns. Cool.
So as I peruse the patterns, I hop on my laptop and begin to check out the specs on the suggested yarns and begin a mental search through my stash, checking out specs on
yarndex
and various websites, and even begin to make a list. At some point as I travelled down this path, it occurs to me that supposedly stash can be photographed and recorded on Ravelry. A couple of clicks later I find that, yes, it can... and not only that, it can be downloaded in spreadsheet form into Excel. I'm not even going to get into my love affair with spreadsheets. Suffice it to say that before I started knitting and discovered the vast time-sucking black hole we call the internet, I was certain that computers were invented solely for the delight of creating spreadsheets. Think what you will, but I am immune to your criticism on this point.
Anyway, I tend to avoid such large (possibly insane) tasks because I usually approach things with an all or nothing attitude (my still yellow kitchen would be an example of the nothing side), so this led to untold (not unknown, I'm just not willing to tell) hours photographing and recording my stash on Ravelry because once I started I couldn't walk away.
However, now that I am almost done (Flickr has limits on uploads so I need to wait until next month to finish the sock yarn), I can look at a glance and see which yarns I own might be potential subs for any pattern... and if I have enough of it. Whew! But I'm too tired to think about it tonight so I'll save the cool patterns for another day and another post and just get to the yarn from yesterday's mail.
Some Lorna's Laces Shepherd Sport in Denim and Natural for the IK Snowflake Socks...
A pleasant variety of mostly solids from
The Loopy Ewe
(hey, I had a gift certificate after all)...
L to R: Nature's Palette in Ripe Wheat, Lorna's Laces Sock in Old Rose, J.Knits in Pueblo, and Misty Mountain Farm Jubilee in Rainforest.
And, my biggest pure indulgence...
Duets Skinny in Chocolate Fantasy from A Swell Yarn Shop. And a close-up...
Oooooooohhhhhhh!
Personally, I'd like to take advantage of the opportunity we have as Americans today to be free from the responsibility of our own actions and blame my late night yarn binge on Paypal. I mean, what's with an online bank that offers me access to my own money at any hour of the day without any sort of field sobriety or fatigue test? Shouldn't they have some sort of trick questions to assess my ability to shop. You know... something like, "Is it a good idea to spend $5 on shipping for a single hank of yarn?" or "Are you feeling pressured to buy more yarn simply in order to meet the free shipping minimum?" Then, based on my answers they would be able to evaulate my emotional stability and restrict access to my funds as necessary, thereby assuming all responsibility for how I spend my own money.
While we're at... maybe Ravelry should impose a time limit on each user... bloglines too for that matter. Of course that would still leave me with sites like this where I found this too cool bumper sticker...
ETA: Lest you think I'm a horrible person, this is, of course, in reference to House.