In spite of the great distraction caused by my discovery of itunes (I know... I'm way behind the times here), I managed to finish the back of the Katia top.
I'm really enjoying this yarn and the pattern. In addition to the tubular cast-on, it also features some tubular knitting and a tubular bind-off to give the neck a nice firm edge. All new to me... and fun. The tubular bind-off is done with a needle and thread... it kind of reminds me of the kitchener stitch. And although cotton is usually a great bother to my hands when knitting, I've found that if I go down a needle size and knit a bit loser, it's much easier to knit with.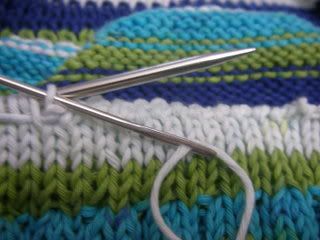 I was thrilled to find a children's version of the book I'm currently reading (Great Expectations) at the craft store today. I came home and enthusiastically showed it to a couple of my younger boys, "Boys! You could read the same book as me and we could talk about it!" Think blank stares. "Maybe I could pay you?!" That got raised eyebrows. "Maybe I'll just make you!" Ugh!

Well, I'm really enjoying the book anyway. I'm wondering what to read next. What's been your favorite summer read?
Oh, and I picked up a skein of Cotton Ease while I was there too... and a crochet hook... still dreaming of crocheting... someday.