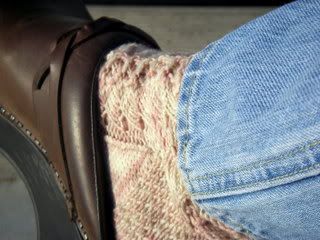 Following my summer frenzy of knitting wool socks, I was delighted that the weather cooled off enough this afternoon that I was actually able to enjoy a pair at my son's football game. You'll have to excuse the picture, but it's very hard to
stealthily
snap a picture of your socks during a sporting event.
There is so little that we can look forward to as the seasons change around here that I'm excited to find something new to signal the change.
As I mentioned, I cast on for Juliet on a bit of a whim... but I think I'm really going to like it. The doubled Silky Tweed knits up real nice and squishy, and it looks like its' going to be a good fit. I just hope I have enough yarn. I really hate learning lessons the hard way!