Today is Thursday... or day 3 of JoJo's efforts to break me into a weeping, hopelessly crazed mama.
The weather has cooled dramatically, which is good because it means I can relax... but bad because weather changes give me a screaming headache.
In spite of this headache, JoJo decided at 7:30 this morning he was ready to do school (I was starting laundry)... when I sat down with him, he decided he wanted to watch TV (enter tantrum)
Last night I drove my eldest across town to get socks for his first football game today. He had socks... but he lost them. Special socks with a specific logo that is apparently crucial to team unity.
It's 9 AM and he has just text messaged me from school because he remembered to pack his socks but forgot his football pants. I need to take them to him at school. I guess I should be glad his spelling was all correct.
Did I mention the headache?
Did I mention JoJo hasn't stopped talking since he got up?
See JoJo charm...
See JoJo scowl...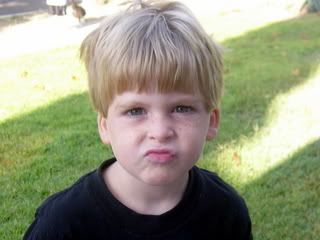 It's that easy and that fast.
And yes, that's the same shirt he was wearing last night. Don't even go there.