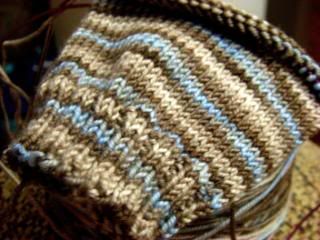 Me... not the weather. I wish it was the weather, then I could wear my new sweater which I am still gazing at lovingly, but unable to wear. But no, it's me. Oh, but speaking of the sweater, I want to say
thank you all so much
for your kind words! You made it extra special! I mean, sure the 6 carriers of testosterone in this house have learned how to expressively raise their eyebrows and say, "Wow, that's great." But their platitudes are, well, just that.
Back to me... I'm in the fog of a blossoming head cold (with a touch of stress) which is leaving me just a bit out of sync... but not too out of touch to recognize a sale that needs my attention. I had 45 minutes between picking up kids from classes so I made just a little quick gadget trip to the LYS. I ordered some yarn for Eunny Jang's
Anemoi Mittens
(because you know I'm hurtin' for mittens out here) and I was hoping to get one of those little
finger gadgets
that help you work with 2 colors at a time. See, it was a harmless litle $2.50 visit. (However, since they didn't carry said gadget, I will now need to order it from Knit Picks... which means that I will have to try out their new Harmony needles... but not, not the Cotlin... I won't buy the Cotlin!)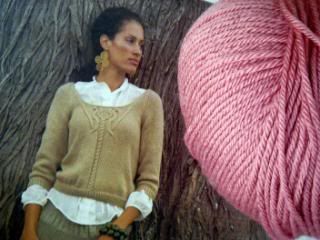 However, when I stepped through the door, I could barely more forward because of the piles, literal piles, of yarn stacked for sale. And not just old fun fur or cheap wool, but Jaeger Extra Fine Merino and
RYC Cashsoft DK
. Cashsoft is one of my favorite yarns, I don't have much in the way of DK, and it was 40% off. I don't really need to go on do I?
So a bag of yarn later I was off to pick up the next 2 children in my carpool when one of my sons observed that we only had one seat left in the car. Oh yeah, I was originally planning on using the extra time to drop a couple of kids off with my visiting dad before returning to pick up more. Oops. So I had to recruit the help of another mom to get all of my carpool kids home. (The fog had apparently cleared only long enough for me to pick out a color of yarn... which I chose in an attempt to match some sock yarns I recently purchased, so it would seem that the it was only partially cleared.)
Next... and this was the best part... I came home to Ravelry where I spent the next hmdfne or so browsing everything that had been knit with Cashsoft DK. I think I'm going to try Norah Gaughan's Turbulence U-Neck Pullover from
Knitting Nature
. (Have I mentioned how much I love Ravelry?) But I'm still open to suggestions so if you have any great ideas,
please
let me know!
Meanwhile, I am trying out this Aspen Top-Down Sweater that I picked up yarn for the other
day
. (Shhhh... I'm feeling a bit glutonous again.) So far I'm just not sure. Realistically, I know that I will never look like the model in a sweater like this. No, bulky sweaters are for thin gals... and while I may be slim for the most part, my belly that has not recovered from bearing 5 children tends to pooch a bit more than I like. So besides being too bulky for 98% of our weather, it will no doubt make my poochy baby belly bulkier... and that is not a pretty picture. No, definitely not.
But my better judgement does not seem to be doing the trick this time so I'm trying out at least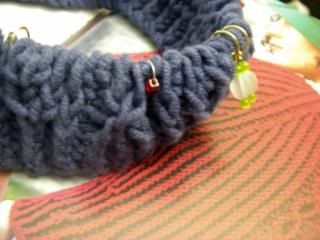 the first ball leaving me time to return the rest when I
come to my senses
realize it might not be all that I dreamed.
Oh, and lost in the fog is
Mr. Greenjeans
for which my wonderful green Malabrigo is wound and ready to go... yet it sits. But not alone... no, it sits with Juliet... in the fog.