While I sit here waiting to hear what a fabulous time was had by all those who were fortunate to see the Yarn Harlot today, I thought I'd follow up on a post at
Yarnhog's site
regarding our knitting spots.
I definitely do have a knitting spot... it's actually more like a life spot because I try as hard as I can to do as much as possible from this spot. So I not only knit here, I also read, watch TV, teach, sometimes eat, and do just about anything else that can be done sitting down here. Nobody else sits here. It is my spot... and although I sadly seem to evoke very little fear in my children, they are always quick to jump up if they happen to be sitting in my spot when I enter the room.
Now I warn you... it is not a glamorous spot. We live in a small, and therefore, very cluttered house. But this is my little sanctuary.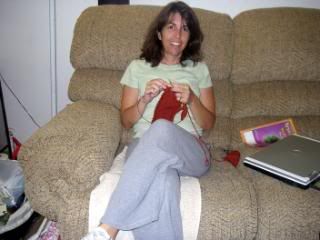 In order to be as true to reality as possible, I have allowed myself to be photographed at my most comfortable best. For extra comfort, my seat reclines and my laptop sits at my fingertips for the many internet emergencies that come up during the day. It is my laptop's spot. Nobody sits here either. Sitting here is a privilege reserved only for school lessons and snuggling times.
Here is where I like to keep all of my important stuff...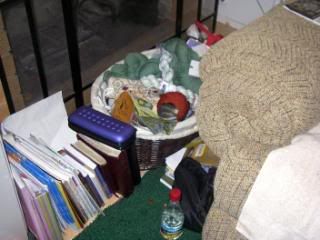 I feel it is very important to keep everything I might need at my fingertips as my overall goal is to move as little possible throughout the day. My basket holds all my knitting necessities, my current WIPs, my near future WIPs, and any recent yarn purchases so I can fondle and gaze at them lovingly for a few days before they officially become "stash".
I also like to have all my knitting magazines and pattern books handy in case I feel the need to stare at them once again. The book collection has actually been recently thinned out since I cleared a shelf in the entertainment center for them. It's a small room so they still aren't too far away. I also use this spot for any books I'm reading... or might read soon... and for my Bible(s) as I find myself in frequent need of these during the day to remind me that children are a blessing from the Lord and such other important words of wisdom.
Oh, and the fireplace... we don't use it (obviously). The necessity of cramming enough furniture to seat 7 people and a big screen TV into a 12'x15' room overrode the need for a fireplace.
Now the next couple of photos are for Suzanne. Keep in mind that I live in a house of 5 overly active boys who never simply sit down on a piece of furniture without a leap or a flop... boys who use the couches for jumping, wrestling, and sleeping as much as they use them for sitting. Our furniture has held up remarkably well with almost no sign of wear and tear from their constant abuse. Except for this one spot...

Do you recognize it?
Yep... it is my spot... nobody jumps here... nor wrestles... nor climbs. It's just me and my stuff here. (See Suzanne, we're not talking wearing thin or looking worn. No, we're talking big ol' freakin' hole.)
Since it's illogical to think that simply sitting could cause such damage I like to think of it as a sign of all of the up-and-down I do during the day... moving laundry, finding school books, picking up Power Rangers or Legos (again), cleaning up spilt milk (again), and all those other things we mothers busy our days with. Surely it's the friction of my active lifestyle that has worn the hole in my couch. Surely.
In other news, today was JoJo's birthday!! (Which was the other reason I wasn't willing to "risk" a trip into Los Angeles for just a shot at seeing TYH.) And as you can see, it was a busy, busy day...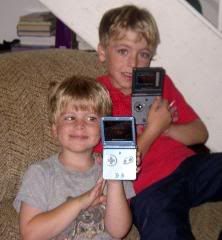 Real busy...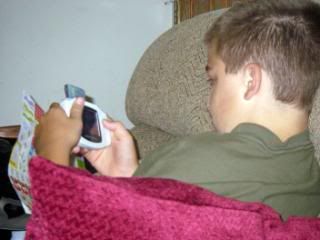 I would have been sorely missed.
Oh, and Daniel got a new hat. He picked it out himself and has worn it non-stop since yesterday, and even to a swim party tonight. He is nothing if not unique.
Now I am off to watch more House. I just got season 2 on sale from Amazon, so I figured a second time through would keep me busy until season 4 starts. Yep, I like to stay busy here in my spot.