It was... to the fullest extent of your imagination... one of "those" days. It is truly amazing the amount of distress, frustration, disruption, and general chaos one cranky 4 yo can impose on a household of otherwise relatively cooperative people. With great effort and no shortage of ideas, JoJo managed to whine, argue, complain, and toss himself into the middle of any and every attempt at normalcy. Now, I'm pretty good at recognizing pleas for attention or illness and adapting accordingly (a skill that has not come easily for me) but for whatever reason, JoJo was clearly determined to be miserable today... and make everyone around him feel likewise.
Fortunately, the other three boys managed to get done what they could do on their own with minimal instruction, although an Algebra lesson between too highly stressed individuals with a young'un in the midst was out of the question. Good thing we have a head start on the book.
All that aside... there were a couple of highlights. I love these new copywork books from
Queen
Homeschool Supplies
that we just started. One is a book of sports-themed lessons for copywork and dictation; the other is part of a series of workbooks that teach spelling through copywork. Since copywork is my favorite way to teach writing, I consider them a great find!
Also, Wy-Guy is in a literature based science class that meets once a month for experiments following assigned reading done at home. We've really been enjoying our first book,
Archimedes and the Door of Science
. It's led to so many questions that they were begging to read
The Librarian Who Measured the Earth
as well. My boys were excited to read something... this alone was (almost) enough to redeem the whole day.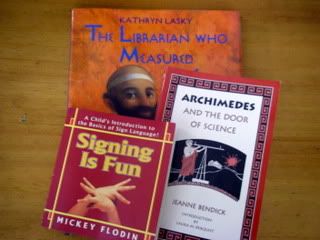 But the highlight would have to be the arrival of
Signing is Fun
, a recommendation of
Donna's
. Once this arrived I had lost their attention for the rest of the day. We are planning on taking a mission trip in January to a
school
for the deaf in Mexico and the boys wanted to learn some sign language. Since I had pretty much given up at this point (it was probably about noon), I handed over the book and told them each to learn how to say their name in sign language. They fought over the book (of course) but then learned their name and more. I learned how to say computer. :)
This gave me some time to take a look at the book that came in the mail for me,
Knitting Classic
Style
by Veronik Avery, which I absolutely love... and will have much more to say about tomorrow. I then plunged in on my $11 Shrug. (Heat paralysis forced me to refrain from any unnecessary housework... and since we all have clean underwear I took the afternoon off.)
I'm still not sure if I'm going to be able to pull off the look... or if the shrug is going to fit... or if I like the yarn... but I keep going. Fortunately it's a quick knit.
How long have you kept going on something you knew would probably end up in the loser bin?