Before I can even speak of anything else, I must start this post... this special Yarn Harlot's Eve post... but sharing my grief at, once again, being a bit slow on the uptake when it comes to acting on significant news. A few weeks ago, I noticed mention of a stop in L.A. on the Yarn Harlot's blog. I quickly checked her touring site for details... jumped up and down in enthusiasm... blogged about it... and e-mailed a few friends. Then I proceeded to wait 24 hours before calling for reservations. (See random fact #7 below... I am a major procrastinator... with a minor phone phobia.)
I am 10th on the waiting list. TENTH. 290 people have reservations and there are probably about that many behind me on the list. The Library where she is speaking has actually taken all the info regarding her appearance off their website because of the massive influx of phone calls they experienced. I can't even find out at this point if, by some remote chance, 10 people have cancelled.
Now, I could go down there and take my chances. I could arrive early and wait around 'til the last minute in hopes of 10 flaky knitters not showing... but yeah, like that's gonna happen. Actually, I would totally take the chance... even if it was only to meet a few of my blogging friends... but DH has to work tomorrow and I really can't ask him to take the afternoon off because I
might
get to see Stephanie if I get lucky. Just doesn't seem reasonable.
So... if anyone reading this gets to see her tomorrow... and if you get to speak to her... would you please, please tell her that Tammy says "Hi"? She will have absolutely no clue who I am... but knowing that my name was said in conversation with her will make me feel like somehow I was involved, 'kay?
Moving on... Have you all seen the new
Knitty
? I love it when a new Knitty comes out... and I really like a few of the patterns featured. I like several sweaters including
Roam
and
Neiman
. I also think the
Back-to-Basics
socks look like something I'll need to try. But this one... this one is an absolute must for me...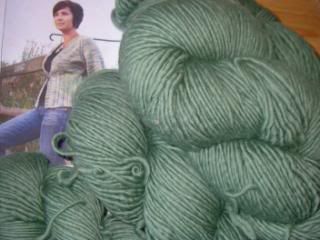 I've been looking for
an excuse
a sweater to knit with Malabrigo for the longest time and I think that
Mr. Greenjeans
will be the perfect pattern. As a matter of fact, I was at the LYS within hours of seeing this Knitty picking out just the right color. I had some yarn to return so the financial impact was minimal and I can't wait to start. But I will. I will get my Minimalist done first. Hey, I've held out for 24 hours already! (I didn't mention my lack of patience and/or self-control in my random facts did I? No? Good. Forget I mentioned it.)

Now I will go back to not thinking about the fact that I will not be in the presence of her Harlotness herself tomorrow. And don't forget to tell her I said HI!