I'm still waffling between projects at the moment, unable to commit.
I wanted to cast on for Ene's Scarf from
Scarf Style
but since remembering that the Clementine Shawlette was still hibernating and (as far as I can remember) is my only current WIP (except for the 2nd Monkey which I'm choosing to ignore for now), I have felt the need to finish it before starting another lace project. Ugh! Since I've also realized that I'm unlikely to ever wear it myself, I think it's going to become a Christmas gift. Duty knitting... it's like walking the dog... I don't necessarily want to do it but will feel guilty if I don't.
I played around briefly with some Louet Sportweight Merino from my stash that I purchased for the Austrian Socks from
Favorite Socks
until I realized that the pattern started by making a 9 stitch/72 row i-cord which you connect then pick-up stitches from for the leg. The afore mentioned headache prohibited any possibility or desire of even considering such a thought. BTW - how long do you think a gal can knit an i-cord for a sock before she wonders why? You'd be surprised.
So I tried the above pictured Whitby Socks from
Knitting on the Road
. I'm using the recommended yarn (I think... with all the Louet changes between Gems and Pearl and whatnot I'm not entirely sure, but the weight and yardage match), my gauge is correct and I like the pattern... but it just doesn't seem to be knitting up right. The stitching seems to loose or something. Again, it could be the headache... but it just looks and feels so blah. Have you used this yarn? If so, does it feel better later? Does it just need to be washed? Did you like it?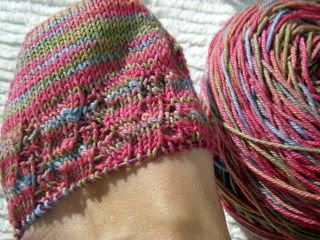 Finally I cast on for
Loopy Laces
by Wendy Knits. I really get a kick out of knitting toe up socks (read "easily amused") and I love this pattern and the Lorna's Laces Sock yarn in Tuscany that I'm using. I just don't feel like working on them.
So... I figured the cure must lie in the Malabrigo resting in my basket and (with a nudge from a friend) I cast on for
Mr. Greenjeans
.
Meanwhile, I've had some money sitting in Paypal from some stash I sold recently. I was saving it for something good, something special, something carefully considered... I was proud of my commitment and the amazing self-restraint which enabled me to hang onto this money for almost a whole week! But as it turns out, I was merely saving it for today... for the
Loopy Ewe
(I may have a slight addiction issue here) and
Etsy
. It also turned out that I was a little short and needed to spend a bit more than I had put aside... you know... on the stuff... that I needed. The necessary stuff. Uh-huh. Yeah, there will be pictures.
Oh well, now that I have a variety of WIPs going and more yarn coming maybe I can return to my usual overly ambitious, under-productive self... and lest you think that knitting is the only
area of my life in which I suffer from such distraction... I picked up a couple of books last week... you know, for some light reading in all my free time...
So far I'm on page 9 of The Robe. Oh yeah... things are happening here.
Actually I'm excited about this book. Not only does it look good, but
Julie
and
km
are reading it as well. Anyone else care to join us? Or at least join them... since I'm so busy you know. Sitting here.
Oh well, it's Tuesday... and all's well that ends with good TV, right?
PS... Now you have to click over to
Yarnhog's blog
and check out the Mom Song she has linked. It's worth your time. :)