So I have a sock (or 3) on the needles, a scarf, new books, and bins full of yarn. What's missing? A sweater! I need to cast on for a new sweater. I know, I started
Mr. Greenjeans
... which I still really like... I just don't want to use the Malabrigo. I think Malabrigo is best left as a fantasy yarn for me... as an unrequited love... because 3 times I have bought a sweater's worth and this will be the 3rd time I end up selling or returning it. I'm not sure what it is. I think it's amazing yarn... very soft, rich and lush. But... oh I don't know.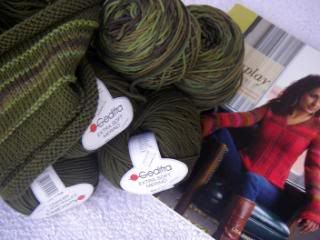 We're just not meant to be.
Anyway, before I return the 4 unused hanks to the LYS, I'm going to post all 5 (one of which I started to knit with but can rewind) on the destash board in case somebody else wants to benefit from my shortsightedness. You can see it
here
if you're interested and want to let me know before I get around to posting it.
So, back to the new sweater... Poppy from YarnPlay. I'm using Artyarns Handpainted Stripe (recycled from my
camo
sweater disaster) along with some Gedifra Extra Soft Merino that my LYS just started carrying. Both yarns are super soft and squishy (my technical terms from my own limited fiber vocabulary). The Gedifra reminds me a lot of Karabella Aurora 8 which is one of my favorites. As a matter of fact, I would have to say I like it every bit as much.
The bottom is knit as one long piece that wraps around the body. It's a design as you go sort of thing... adding garter ridges or color every so often. This is really fun. But I'm sure I'll do it wrong. I'm a strong believer in a right way and a wrong way to do something... and if it involves creativity... I will do it wrong. But please, do note my bold color choices. I do live a colorful life.
And here I present to you the result of cheap child labor. We will now focus on moving the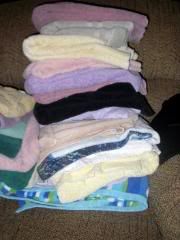 towels out of the living room and into their empty cabinet. The cheap child labor will no doubt argue first with me over the necessity of this and then with each other over who is going to do it. But I'm starting to learn. Oh yeah, I'm learning to outsmart them... and only one child has caught on (and it's not the child who asked if Hawaii was going to be at the Olympics when he was 12... and then laughed at his brother when he said it was part of the USA).
Now I simply say, I want you guys to _______. In response, at least one will try to look invisible, one will start to argue, and one will hop up to do the job. At this point, child number 3 is thanked and told to sit down and the one who is arguing is sent to do the job alone... and to find Hawaii on a map.