Floral Lace Anklets from Lace Style
Regia Silk
Magic Loop w/Knit Picks 32" size 0 circulars
Well, they're cute... I have no idea what I'll wear them with. No idea at all. But, again, they're cute... and finished... maybe I'll just need to find some new shoes. Shoes that you can wear with lacey little socks. I'm not sure I'd recognize them if I saw them... or want to wear them if I did. But aren't they cute?
In a rather surprising twist, I find myself with nothing else on the needles right now except for my House sock. Oh and my Clementine Shawlette. Of course there are at least a dozen things I'm dying to start but the decision is paralyzing me. Well, that and a splitting headache.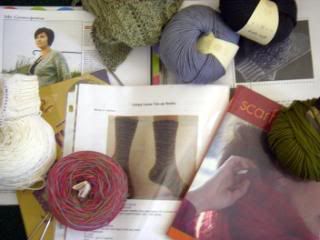 In more exciting news, my 8 year old has made his biggest decision of the year and picked out a Halloween costume...
Any guesses? :)