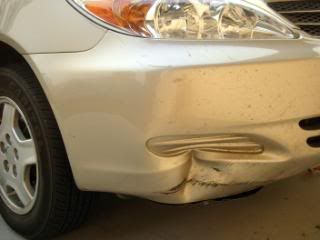 and needs to be put to rest for a while. That's the only explanation I can think of for the trail of drama that we've dredged through over the past 6 days. The first drama erupted right as I was getting in the Poppy groove last Wednesday. (It was a horrible scene with some neighborhood dogs that I would prefer to forget.) Poppy went into the basket for several days only to reappear not long before I was attacked by the tree yesterday.


This morning I was engaged by a particularly enthusiastic sheriff who felt it necessary to leave his job directing traffic at a very busy intersection to stop me in the middle of my right hand turn with an adamant lecture on obeying traffic directions... which I assured him I had. Yes I knew that the flat hand held up meant stop... but he had, in fact, rather frantically, waved me through. (I didn't even want to turn but he looked at me when I stopped and waved at me to follow the car turning in front of me.) More lecture, more discussion on eye contact, body angle, and hand signals during which time cars are backing up further and further at the unmanned intersection. Actually, the word discussion implies that two of us are engaged in conversation but this was more one sided. He talked and I occasionally disagreed. I am usually quite willing to fess up to my mistakes or admit if I'm uncertain... especially with a police officer, but I had been watching him so carefully before I turned that I just knew what I saw and felt compelled to remain firm.
Now I am a woman who greatly values wisdom and self-control.... sadly, I'm not naturally possessed with much of either. So, for the sake of my own dignity... and out of respect for the officer (I really don't care for cop bashing, they work too hard for that), I will leave out the next 20 minutes of absurd threats (from him) and stubborn responses (from me) and just end by saying that I drove away without a ticket.
But I may never look at Poppy again.


Well, I took the car to DH's shop to show him the damage to the car that I hadn't noticed until this morning... and weep a bit over my confrontation... and do you know what he said?
"Cheer up!" "Go buy some yarn... that should help."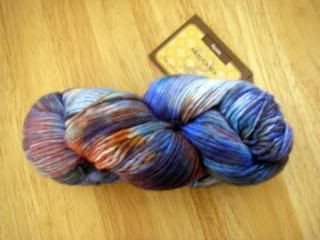 It's a poorly focused picture of some Aracunia Aysen (70% Merino, 20% Alpaca, 10% Silk). I think I'll give
Wendy's
Brioche stitch scarf a try.