I love knitting! As a matter of fact, I love everything about knitting. Love it so much in fact, that I even love reading about it, finding new patterns, checking for yarn sales, filling internet baskets with yarn I won't buy, blogging about knitting, and especially... I love Ravelry. I love standing in the middle of a yarn store and touching all the yarn. Actually I have amazing stamina for this particular activity. Oh, and books. I love knitting books and feel compelled to own them all. Then I can enjoy gazing at the patterns and virtually shopping for yarn for my favorite patterns that I'll probably never knit.
So armed with an Amazon gift certificate, I just received these...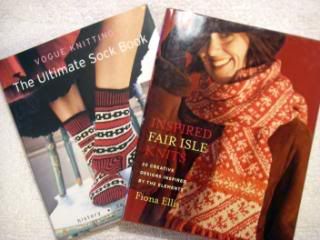 The sock book is a given because you know how hard it is to find good sock patterns and new ideas! And Inspired Fair Isle Knits was obviously a must considering what a big fair isle knitter I am! I mean, I have yarn in my stash for both fair isle socks
and
mittens. I'm just a bit too intimidated to get started.
On a more serious note though, I have to give a thumbs up to both of these books.
I knew I really didn't need another sock book as I already have a list of patterns I want to knit as long as my arm, but I'm not at all sorry that I ordered Vogue Knitting's
The Ultimate Sock Book
. In addition to some great patterns, it has pages of stitch options and a great history of sock knitting.
I ordered
Inspired Fair Isle Knits
because I had noticed that it contained some less-intimidating looking patterns as well. Again, I was not disappointed. The book is gorgeous and does offer a great selection of patterns knit with a variety of fibers including cotton (which is good news for those of us in warmer climates). Included with the more traditional wool sweaters, are a cotton tee with some fair isle touches to the trim, a full-on fair isle tank and more.
I particularly liked this sweater with it's flared sleeves. So classy. (Now I just need to hit the sale bins at the LYS where they are still clearing out a ton of dk merino.)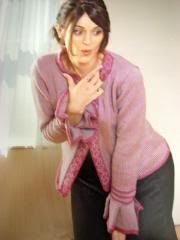 And wouldn't you just adore snuggling up in a ski lodge in this? (See... when it comes to knitting, I even have an imagination. Some day I'll tell you about the 2 whole times in my life I've been skiing.)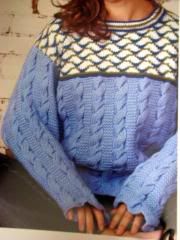 And this wrap. Talk about being wrapped in luxory. I'm not a big mohair fan, but this is just stunning!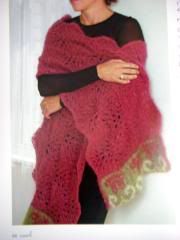 And yeah... I know they're lousy pictures. But in my defense (1) I took photography in both high school and college and, despite my greatest efforts, never got higher than a C. (2) It was very gray and overcast when I went out at what I have found to be the best time of day to take pictures. We call this phenomena "weather" and are always most surprised by it. And (3) I would've waited until tomorrow but, well, I felt like doing it now.
Anyway, back in the real world, I've even managed to squeeze in a tiny bit of actual knitting. I love this Backyard Leaves pattern. (And see, I also got a one of those trendy little box bag things off Etsy. Love it!)
Now I'm going to go wash more towels. We never have clean towels. Ever. Although I wash towels all the time, this morning I had to dry off with a hand towel. Not a good way to start the day. The only upside is that I rarely have to fold them and put them away. I've found if I bring a load or two in and drop them on the recliner, they are all gone within 24 hours. Not that I make a habit of this... no, that wouldn't be right. At the very least, I am nagging my children to fold them and put them away during said 24 hours.