Ahhhh... My son's first scrimmage as a High School student! He's down there in one of those fine yellow shirts. Apparently their practice jerseys don't have numbers but fortunately my mother's intuition allowed me make a quick scan of those yellow jerseys with black helmets and quickly identify my son.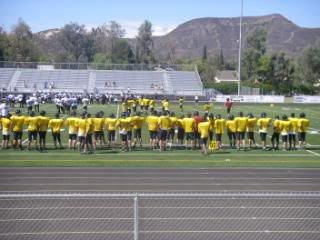 Okay, well my 13 yo son was a bit of a help... he knew what his brother's shoes looked like. Fortunately he was one of the few with white shoes... and even better, he had on tall black socks.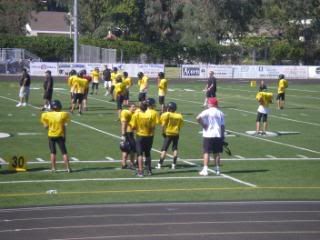 See him up there standing right next to the coach in the white shirt and red hat? So then all I had to do was keep my eyes on the shoe/sock combo so I could see him on the field pictured below... can you? He's a linebacker if that helps (wouldn't help me by the way).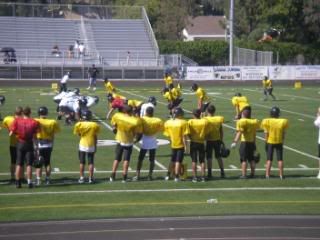 No? Maybe this helps...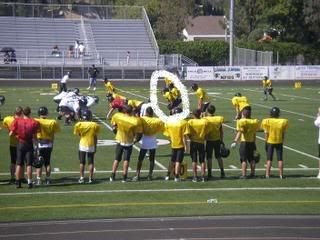 And that's all I watch... white shoes. Those white shoes made some great tackles today!


As for knitting... today I started the Retro Redux Shrug from the Lace Style. I've wanted to knit this since I first got the book but didn't know if it would be practical. Actually, I've wanted to knit a shrug for a long time but I kept thinking they were going to go out of style before I finished one. Not to mention the concern over whether or not I could pull one off. But when I found this new yarn by Berroco I figured I'd give it a go.
It's a nylon/acrylic blend, but feels wonderful. Very soft and squishy... and only $5.50 for 210 yds! So we'll see what becomes of the $11 shrug.
BTW - thank you for your compliments on the sock in my last post. The pattern is Floral Lace Anklets also from Lace Style.