Last night we had our first "Girl's Movie Night" at my friend Julie's house. Our pla
n is to get together on occasion and watch those movies that our husbands would either cons
ider "chick flicks" or just not be interested in. It was great... I brought all my old Interweave magazines in order to lure my pals to pick projects for the new Interweave KAL and we all brought our current knitting projects. We sat there in the middle of an intoxicating mix of yarn, patterns, chocolates, margaritas, chai tea (yummy!), and ice cream. Of course, I forgot to take pictures or else you could see Andee learning to cast-on for a sock, Keri's adorable baby pants from Last Minute Knitted gifts, and Julie's beautiful red Baby Cashmerino socks and new cactus. (You really must pop over and ask
Julie
about the Cactus!) Unfortunately, sometime after midnight, we realized that
we had forgotten to watch a movie but we considered it a success just the same.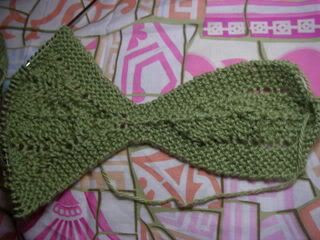 I didn't get much knitting done this weekend but I did cast on for the Clementine Shawlette from IK which I am really enjoying and added a few rows to
Flair
. I have to say that so far I love everything about Flair... the feel of the Blue Sky Cotton, the fit, the pattern... all good.