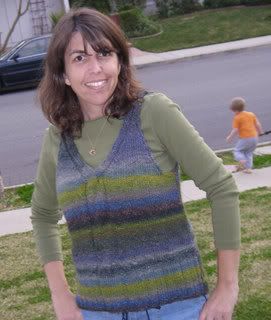 As one who lives in So Cal attired in a wardrobe of Old Navy t-shirts and jeans, my handknits don't get near the wear I would like. So when I saw Bonnie-Marie modeling her
Mondo Cable Vest
over an Old Navy top, I knew it was destiny.
Knit in Silk Garden, it's lightweight enough to get some wear out here in our not so icy temps and goes with most of the shirts in my closet. I feel so hip!
It was a super quick knit and I'm glad nobody's grading me on my seaming because I threw the pieces together at superspeed. The only modifications I might make if I had it to do over again, would be to knit it in the round and attach the shoulders with a 3 needles bind-off... or maybe simply seam them a wee bit better than I did. Doesn't matter though... I still love it!