It's a quiet Saturday night (yes, you heard that right... quiet... here in boy-world) and I'm really enjoying my boys. My middle boy has been begging me to teach him to knit so today we finally sat down and gave it a go.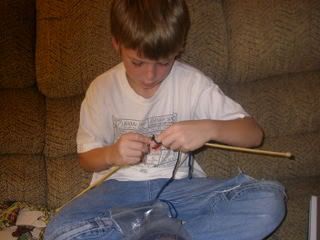 He caught on pretty quick but truly needs a much better teacher than me. I do okay with the math, writing, and reading but not so great with the motor skills. I have yet to teach a child to tie their own shoes... my husband (and a dear friend of mine) have taken up that task. Actually, now that I think about it, I'm not sure my 7 yo even knows how... he's got all velcro action on his shoes.
Little guy enjoyed some games and videos at the Nick Jr. website.

And, after his bath, D threw on some casual duds and played some golf in the living room. Wait... what? Yes, he did. Apparently the stick had caught his fancy today as being just the right shape so, well, I guess he just felt like playing some golf.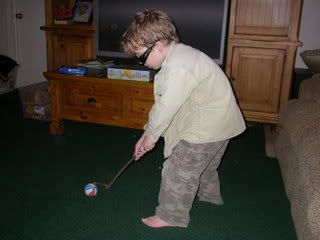 BTW - he is truly not trying to get attention or entertain us... he is just being himself.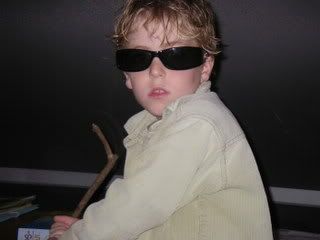 Oh, the stories I could tell... just hope you're never with him in a crowded post office when he spots a rather shortish bearded man who he is sure must be Gimli (the dwarf in Lord of the Rings). Yes, let your imagination run wild here, and keep in mind my son was wearing a cape and carrying a quiver of arrows at the time. Well, technically it was a Tyco rake sticking out of the back of his shirt but he called it his arrows. Granted this was a couple of years ago but a mom just doesn't forget moments like this... no, she lives in fear of them.
And there was knitting... oh yes, there was knitting.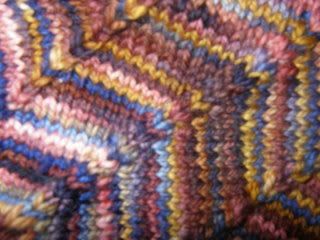 So what did you do Saturday night??