at the Ronald Reagan Presidential Library...

I had no idea that good old fashioned July 4th events even took place around here, but some friends of ours invited us to join them at the Ronald Reagan Presidential Library for their annual festivities where we were quite pleasantly surprised...
Crafts and fun for the young ones. (Here's my youngest with his very best friend who he is most certain he will marry some day... and have 10 kids, live in a mansion and sell lemonade and Power Rangers to make money. Not that he's given it much thought or anything.)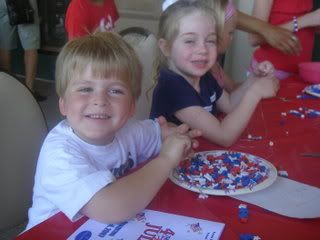 Or maybe he'll be a fireman...

Old fashioned games and races.
It took a while for Wy Guy and his buddy to work this one out. Come on boys... left, right, left right...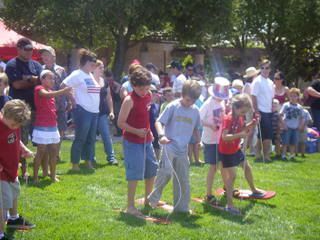 Mom joins in for some face (and arm) painting fun... (with his big muscles, he loves making his flag "dance", hee hee)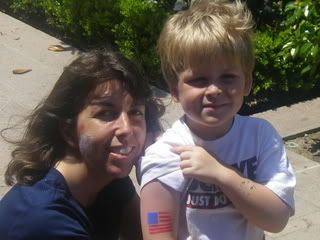 George Washington and Abraham Lincoln mingled with the crowd, watermelon and birthday cake were served, and a couple of bouncy jumps picked up any slack.
The highlight for many was the magic show. Unfortunately, JoJo's attention span was exceeded by the wait time. After the first trick, he enthusiastically exclaimed, "That's my first magic ever!! Let's go, I'm hungry."
(Lucky for me, his big brothers were able to tell me all about it... in great detail. They're actually still telling me about it. Still.)
And did I mention it was all FREE?! I think we'll make this an annual tradition!
HAPPY 4TH my Friends!


BTW: As for fireworks, you'd think they'd reconsider following a year in which our dry mountainous landscape received only 3 inches of rain, but no... apparently this only concerns us common folk. But I must say we do have some of the best firefighters in the nation on the job so I'll try to overlook what to me seems a bit frivolous at such a time. Just saying.