Well I gotta grip on my restlessness today and decided to face my slippery little nemesis head on, with sheer grit and determination. I worked on it every chance I got today... swimming lessons, waiting for my son, getting gas... heck, I figured every silky K2tog YO row was getting me that much closer. I'm easily distracted at home, so I even ventured over to the LYS for some focused knitting time. You know.. because there's nothing to distract me at the LYS. Oy.


I
so
wanted to finish this today... but it's 12:30 and I'm starting to mess up so, with great will power, I'm putting the scarf, and the golf ball size lot of yarn left to go, aside until tomorrow.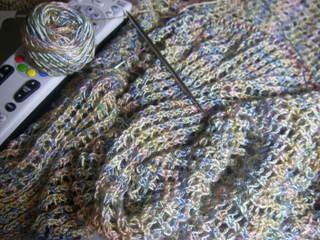 Don't get me wrong... I must tell you again that the Sea Silk is heavenly and the scarf is gorgeous... I just think that it's needles are 2 sizes too small.