I'm not sure what this means...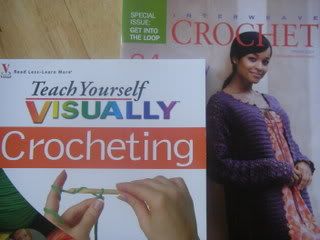 other than I've had this bizarre nudging over the last few weeks to manipulate fiber in some other manner. I think it started with some cute little crocheted animal patterns I saw at a yarn shop in the valley... not that I'm likely to make a cute little animal critter as, I might as well face it, I'm pretty short on people who would appreciate it around here. However, I think I could definitely find a taker or two for this
guy
. But I guess I should start with a scarf... or granny square.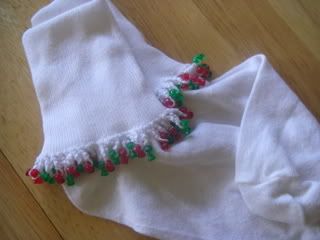 Actually, if you count these socks, I do have a bit of experience with crochet. Many, many years ago, a friend of mine taught me to add a beaded crochet trim to plain socks. Everyone I knew got beaded socks that year.
Speaking of socks, I'm still wildly obsessed with knitting socks and have touched nothing else for well over a week or two. I almost have myself convinced that I'm going to knit my way through the entire Favorite Socks book over the summer. (Having said that, I'm sure to have broken the spell.)
Next post... Ms. Waving meets her match.