Okay... I'll admit it, I'm starting to feel a bit buried by my WIPs. As Solomon tried to teach us long ago, gluttony and wealth do not lead to contentment, but rather, in fact, to disorder and distress. The pleasure is only momentary. Like they say... knowledge is power. Like I say... ignorance is bliss. I will most likely continue to ignore this lesson.
That said, I have been sorting through my basket trying to figure out what needs attention and what makes me ask "Why?" I've weeded out the projects I have least interest in actually
finishing and have hidden them away to think about another day. Now I'm trying to focus on the knits that I either really enjoy knitting or really want to wear. However, my head is still spinning as I am unlikely to finish all I want to knit. (And all I keep thinking throughout it all is that I really want to start the Alpine Knit Scarf from Victorian Lace Today.)
Has it ever occurred to you? That notion, I mean. The realization that you will never be able to knit all that you want to knit so you better start choosing wisely? I hate reality.
Oh, and the new Fall Interweave will be out soon... it doesn't seem like the page is quite finished but here is a
sneak peek
. I can tell you right now that I have yarn in my stash ready for this "Placed Cable Aran" so I guess I better finish something soon. (How did I find this you ask? Think "obsessive".)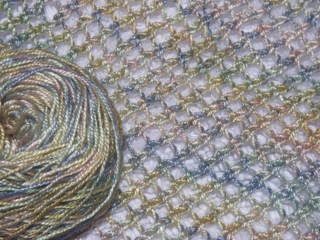 Anyway, I have been (painfully, slowly, dreadfully) working on the Sea Silk Montego Bay Scarf. The yarn and colors are both exquisite although I must say that slippery little K2tog on size 6 needles is a bit tedious. What's that you say... the pattern calls for size 8s? Well yes that would make it go quite a bit faster. Are you sure? Oh yeah... look at that. Argh! Oh well... I'm more than halfway there so I'm not frogging. I just hope I wear it when it's done. No, I WILL wear it when it's done.
In the mail today from
The Loopy Ewe
... my last splurge from my destashing...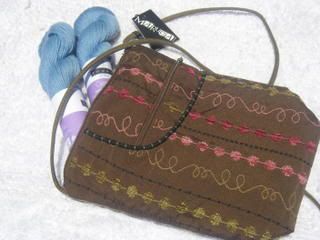 The pictures don't really do this bag justice. It's very sturdy with great details and great for throwing on messenger style when you just need to take a few essentials (like to an amusement park or party) or, of course, for carrying your wallet and some sock knitting.
But the most exciting arrival would have to be these...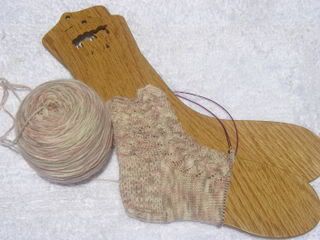 Wooden Feet! Or "legs" if you're a child... especially if you're an overly imaginative child with a penchant for pirates. "How do these attach?" "Why is this sheep here?" "Tie it on me, mom!" I have a feeling I'm going to have to keep these hidden.
Adorning them are my Meida's Socks from Favorite Socks. My sock addiction is starting to fade so these may take awhile. I have a great idea for a *sock swap* though! Each person picks a yarn and a pattern they want, then knits one sock. Then the partners swap with each other to knit the second. No second sock syndrome. What do you think?