Well, I clearly had lots to say about reading, so I'm just posting a quick up-to-date on what I've been knitting which in a word would be.... socks.
My present stages of sock knitting...
Planning stage... Meida's Socks with Dream in Color Smooshy Sock "Petal Flowers"
Partial Undulating Rib in Panda Cotton (which I love... more later)
Lonely Only Yarn Pirate awaiting a match
To the toes on my Lorna's Laces Somerset shorties (at which point I had to stop reading to start decreasing and was then sidetracked by blogging). Upon completion, these size 1 circs will be put into play on the above mentioned Meida's... hopefully by days end (pending all other distractions).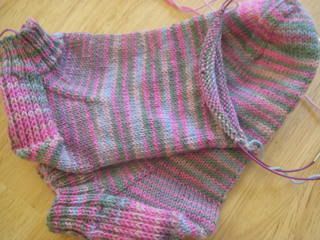 Then the grand finale... the drawer where all my pretties await a day cool enough to actually be worn in our So Cal summer.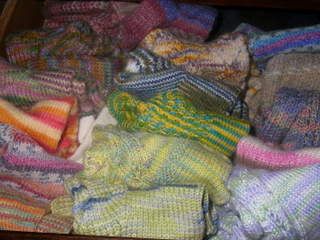 From drawer to drawer, yarn to sock, it's an exciting life for sure.