Today I got to do one of my absolute favorite things! Besides buy yarn that is... and, of course, knit. For my birthday, my husband took me to Six Flags Magic Mountain for a day of roller coaster fun! My pal, Paula and her husband joined us... and we made good use of the water rides (and ice cream) to withstand the 100 degree heat. (But I will tell you that I was definitely feeling a year older. 5 years ago I wouldn't have left the park until they kicked us out.)
I didn't get many good pictures, but this was our favorite ride...
Tatsu
. (Paula can hardly wait to get aboard! Hee Hee)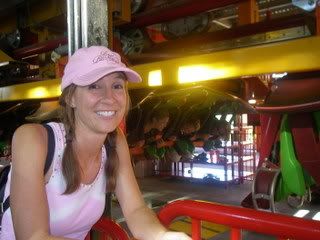 My mom and dad also spoiled me with a great present...
I'm looking forward to checking out some of the knitting podcasts and listening to some good books while I knit. (And I'm lucky my 15 yo son can teach me how to use it.) What's that on the screen you ask? Well I had to download something to try it out! Yes, I'm well familiar with the word obsession.
Oh, and that
is
a finished Montego Bay in the background. More pics tomorrow.